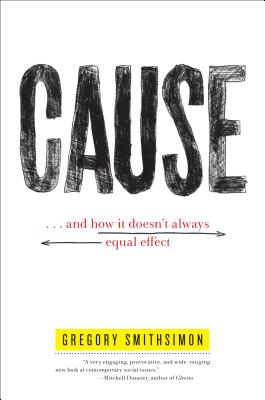 Cause (Hardcover)
. . . And How It Doesn't Always Equal Effect
Melville House, 9781612196763, 320pp.
Publication Date: February 13, 2018
Other Editions of This Title:
Compact Disc (2/13/2018)
MP3 CD (2/13/2018)
Paperback (2/19/2019)
* Individual store prices may vary.
Description
The Freakonomics of the sociology world. This book shows how deeply irrational we humans are, and what we can do about it

When we try to understand our world, we ask "why?" a specific event occured. But this profoundly human question often leads us astray. In Cause, sociologist Gregory Smithsimon brings us a much sharper understanding of cause and effect, and shows how we can use it to approach some of our most daunting collective problems.

Smithsimon begins by explaining the misguided cause and effect explanations that have given us tragically little insight on issues such as racial discrimination, climate change, and the cycle of poverty.  He then shows unseen causes behind these issues, and shows how we are hard-wired to overlook them. Armed with these insights, Smithsimon explains how we can avoid these mistakes, and begin to make effective change.

Combining philosophy, the science of perception, and deeply researched social factors, Cause offers us a new way to ask "why?" and a hope that we may improve our society and ourselves.
About the Author
Gregory Smithsimon is professor of sociology at Brooklyn College, City University of New York, and the Graduate Center. He is the author of Cause: And How It Doesn't Always Equal Effect, as well as September 12: Community and Neighborhood Recovery at Ground Zero (NYU Press), about the role of public space in redevelopment conflicts in Lower Manhattan after September 11, 2001. He is also author, with Benjamin Shepard, of The Beach Beneath the Streets: Contesting New York City's Public Spaces (SUNY Press), on protest movements and New York's privately owned public spaces. He is currently completing Liberty Road: African American Middle-Class Suburbs Between Civil Rights and Neoliberalism, a study of how suburban space reframes political conflicts for middle-class African Americans. He is an editor of the interdisciplinary urban journal Metropolitics, and has written for the Village Voice, Dissent, In These Times, the Daily News, and the Wall Street Journal online. He lives in Brooklyn.
Praise For Cause: . . . And How It Doesn't Always Equal Effect…
"This balanced consideration of cause and effect in regard to three persistent social issues (terrorism, climate change, and racism) asserts that human nature's basic egocentrism and need to create self-absorbed narratives lead to overly simplistic, often-erroneous conclusions.... [a] compelling narrative."—BOOKLIST

"Enjoyable, eye-opening pop science... [Smithsimon's] book has much value as an exercise in creative thought."—KIRKUS REVIEWS

"A very engaging, provocative, and wide ranging new look at contemporary social issues."—Mitchell Duneier, author of Ghetto


"Plenty of behavioral economists have written popular books explaining how our confusion about money affects our wallets. But aren't we sick of those smug jerks? Greg Smithsimon has done something much, much better. In this spirited and convincing book, he uses sociological concepts to explain why most of us are wrong about why things happen, and the political implications of that confusion for race relations, inequality, and climate change. With the playful clarity of Robert Merton and the conscience of C. Wright Mills, perhaps Smithsimon will revive the sociological tradition of making social theory accessible to the masses. We certainly need it more than ever."—Liza Featherstone, author of Divining Desire: Focus Groups and the Culture of Consultation 
or
Not Currently Available for Direct Purchase