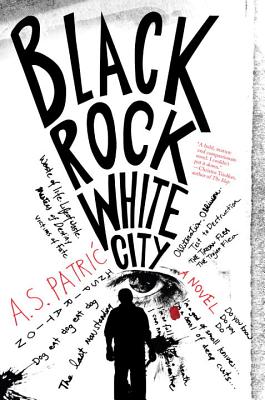 Black Rock White City (Hardcover)
Melville House, 9781612196831, 240pp.
Publication Date: September 5, 2017
Other Editions of This Title:
Paperback (5/31/2016)
* Individual store prices may vary.
Description
Winner of the 2016 Miles Franklin Literary Award

A powerful debut novel about two refugees starting over after losing everything

Jovan and Suzana have fled war-torn Sarajevo. They have lost their children, their standing as public intellectuals, and their connection to each other. Now working as cleaners in a suburb of Melbourne, they struggle to rebuild their lives under the painful hardships of immigrant life.

During a hot Melbourne summer Jovan's janitorial work at a hospital is disrupted by mysterious acts of vandalism. But as the attacks become more violent and racially charged, he feels increasingly targeted, and taunted to interpret their meaning. Under tremendous pressure the couple struggle to keep their marriage together, but fear that they may never find peace from the ravages of war . . .

Black Rock White City is an essential story of displacement and immediate threat—the new reality of suburban life—and the deeply personal responses of two refugees seeking redemption.
About the Author
A.S. Patrić is a bookseller in Melbourne, Australia. His short story collection Las Vegas for Vegans was shortlisted for the Queensland Literary Awards. His debut novel, Black Rock White City, won the Miles Franklin Literary Award, Australia's premier literary prize. He was born in Zemun, Serbia, and emigrated to Australia as a child.
Praise For Black Rock White City…
"Patric's suspenseful and harrowing debut brilliantly explores life as a refugee in Melbourne, Australia... a heartbreaking yet hopeful work about how trauma can erase identity and drive people to reinvent themselves."
—PUBLISHERS WEEKLY, STARRED REVIEW

"Paints a convincing snapshot of emigre life, rendering its banal humiliations with pointed weariness... Patric's prose is energetic and engaging... its sensitive exploration of the innate human need to put down roots is admirably ambitious and timely." —THE GUARDIAN

"Patric's images will remain indelibly and affectingly in readers' minds."
—LIBRARYJOURNAL.COM

"A startling, stunning account of displacement that speaks not just of and to those forced from their homelands, but also to any of us who currently wonder what country it is we live in now." —LITHUB

"Patrić has certainly accomplished something notable... this marks the emergence of a force to be reckoned with in Australian literature."
—LOS ANGELES REVIEW OF BOOKS

"A fresh and powerful exploration of the immigrant experience and Australian life, Black Rock White City explores the damages of war, the constraints of choice, the possibility of redemptive love and social isolation amid suburbia."
—Miles Franklin Literary Award citation

"Dark and devastating as it might be, Black Rock White City is an unforgettable, poetic celebration of those who choose to carry on no matter what war has wrought upon them, and those who refuse to give up on love regardless of the cost. A.S. Patrić is the definition of a gifted writer."
—Imbolo Mbue, author of Behold the Dreamers

"A disturbing, eerie inquiry into the power of language, the price of exile and the cost of survival. A.S. Patric's debut novel is haunting and haunted, but above all, humane."
—Geraldine Brooks

"Dark, confronting, but also intensely lyrical. A powerful account of the compulsions and traumas that haunt the suburbs of 21st century living."
 —David Malouf

"A.S. Patrić, one of Australia's finest writers, explores the territories of culture, identity, and love with a surgeon's precision and an artist's eye."
—Krys Lee, author of How I Became a North Korean

"A bold, mature and compassionate novel, and I couldn't put it down."
—Christos Tsiolkas, author of The Slap
 
"Patrić is a masterful writer . . . I will carry this book on and on."
—Ashley Hay, THE AUSTRALIAN
 
"Formally rigorous and emotionally powerful, [Patric's] new novel can only add to his stature as one of the most fascinating writers in this part of the world"
—SIDNEY MORNING HERALD

"A.S. Patric grabs his reader's attention... Patric gives an astute, affecting portrayal of adapting to life in a new country, navigating the shifting balance of grief and hope as his émigrés learn what cannot be left behind and what can." —THE SPECTATOR

or
Not Currently Available for Direct Purchase