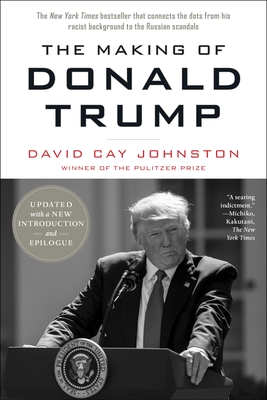 The Making of Donald Trump (Paperback)
Melville House, 9781612196879, 288pp.
Publication Date: November 14, 2017
Other Editions of This Title:
Compact Disc (9/13/2016)
Hardcover (8/2/2016)
Compact Disc (9/13/2016)
Paperback (1/5/2017)
MP3 CD (9/13/2016)
* Individual store prices may vary.
Description
THE NEW YORK TIMES BESTSELLER that connects the dots from Donald Trump's racist background to the Russian scandals

"A searing indictment." — Michiko Kakutani, The New York Times

"Johnston has given us this year's must-read Trump book." — Lawrence O'Donnell, host of MSNBC's The Last Word with Lawrence O'Donnell

The international bestseller that brought Trump's long history of racism, mafia ties, and shady business dealings into the limelight. Now with a New Introduction and Epilogue.
 
Pulitzer Prize-winning investigative journalist David Cay Johnston, who had spent thirty years chronicling Donald Trump for the New York Times and other leading newspapers, takes readers from the origins of the Trump family fortune—his grandfather's Yukon bordellos during the Gold Rush—to his tumultuous gambling and real estate dealings in New York and Atlantic City, all the way to his election as president of the United States, giving us a deeply researched and shockingly full picture of one of the most controversial figures of our time.

"Provides useful, vigorously reported overviews of Mr. Trump's life and career ... Mr. Johnston, who has followed the real estate impresario for nearly three decades, offers a searing indictment of his business practices and creative accounting."—Michiko Kakutani, The New York Times

"David Cay Johnston has given us this year's must-read Trump book."—Lawrence O'Donnell, MSNBC's The Last Word

"Johnston devastatingly covers ground he broke open as a reporter on the Trump beat in Philadelphia and at The New York Times...The best of investigative reporting is brought to bear on a man who could potentially lead the free world."—USA Today

"Carefully fleshes out the details of Trump's known biography...with solid documentation."—Tampa Bay Times

"Johnston's case is unassailable and eye-opening." — The Nation

About the Author
DAVID CAY JOHNSTON is an investigative journalist and winner of a 2001 Pulitzer Prize for journalism. A long-time reporter for the New York Times and the former president of the Investigative Reporters & Editors (IRE), he is also the author of several New York Times bestsellers, including Perfectly Legal and Free Lunch. He has won the IRE Medal and a George Polk Award for his investigative reporting, and is a columnist for The Daily Beast, National Memo and USA TODAY. Johnston teaches at Syracuse University College of Law and lives in Rochester, New York.
Praise For The Making of Donald Trump…
"Provides useful, vigorously reported overviews of Mr. Trump's life and career ... Mr. Johnston, who has followed the real estate impresario for nearly three decades, offers a searing indictment of his business practices and creative accounting."—Michiko Kakutani, THE NEW YORK TIMES

"David Cay Johnston has given us this year's must-read Trump book."—Lawrence O'Donnell, MSNBC's The Last Word

"Johnston devastatingly covers ground he broke open as a reporter on the Trump beat in Philadelphia and at The New York Times...The best of investigative reporting is brought to bear on a man who could potentially lead the free world."—USA TODAY

"David Cay Johnston, a Pulitzer Prize-winning former New York Times investigative reporter, gives Trump the thorough scrubbing he deserves...Johnston has done voters a service with this unblinking portrait. He makes a compelling case that Trump has the attributes of both 'dictator' and 'deceiver' and would be a disaster in the Oval Office."—FINANCIAL TIMES

"Carefully fleshes out the details of Trump's known biography...with solid documentation."—TAMPA BAY TIMES

"Johnston's case is unassailable and eye-opening." —THE NATION

"A devastating attack on the Republican presidential nominee....[Johnston] carefully disentangles the knot of lies that has so far characterised Trump's presidential campaign."—THE INDEPENDENT

"If you follow the news at all, you'll know that a number of allegations have recently been raised against GOP presidential candidate Donald Trump…It's due in good measure to veteran investigative reporter Johnston…that these charges have seen the light of day. Here, without undue breathlessness and certainly without any coyness, he elaborates on those newsworthy sound bites…connecting dots and establishing patterns."—KIRKUS REVIEWS

"Johnston…maintains a crisply matter-of-fact approach throughout this scrupulously detailed and documented chronicle."—BOOKLIST