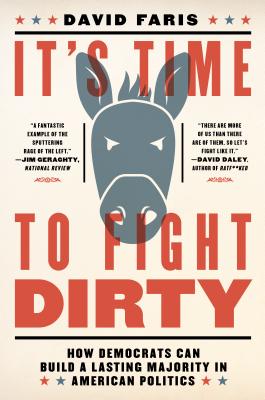 It's Time to Fight Dirty
How Democrats Can Build a Lasting Majority in American Politics
Hardcover

* Individual store prices may vary.
Other Editions of This Title:
MP3 CD (8/28/2018)
Compact Disc (8/28/2018)
Paperback (1/15/2019)
Description
It's time for Democrats to strike while the iron is hot…
 
The American electoral system is clearly falling apart—more than one recent presidential race has resulted in the clear winner of the popular vote losing the electoral college vote, and Trump's refusal to concede in 2020 broke with all precedents…at least for now. Practical solutions need to be implemented as soon as possible. And so in It's Time to Fight Dirty, political scientist David Faris outlines accessible, actionable strategies for American institutional reform which don't require a constitutional amendment, and would have a lasting impact on our future.
 
With equal amounts of playful irreverence and persuasive reasoning, Faris describes how the Constitution's deep democratic flaws constantly put progressives at a disadvantage, and lays out strategies for "fighting dirty" though obstructionism and procedural warfare: establishing statehood for DC and Puerto Rico; breaking California into several states; creating a larger House of Representatives; passing a new voting rights act; and expanding the Supreme Court.
 
The Constitution may be the world's most difficult document to amend, but Faris argues that many of America's democratic failures can be fixed within its rigid confines—and, at a time when the stakes have never been higher, he outlines a path for long-term, progressive change in the United States so that the electoral gains of 2020 aren't lost again.
Praise For It's Time to Fight Dirty: How Democrats Can Build a Lasting Majority in American Politics…
"In [this] short, bracing book, David Faris ... argues that Democrats should immediately use every lever they have to gum up the works in Washington, to ensure they win full control of government in 2020." —THE NEW YORK TIMES BOOK REVIEW

"A bracing polemic ... American democracy could disappear altogether within our own lifetimes. Every one who wants to avoid that catastrophe must read his book.​" ​—THE GUARDIAN US

"The most detailed case against the Return to Normalcy—let's call it the Normal Is Over side of the debate—is advanced by the political scientist David Faris in his new book."—POLITICO

"Political scientist David Faris makes a compelling case that court-packing — along with statehood for D.C. and Puerto Rico and other reforms — amounts to a prerequisite for lasting progressive change." —JACOBIN

"Should be mandatory reading by every Dem leader." —DAILY KOS

"[Faris] advocates a number of astringent, constitutionally legal challenges to a system that has hardly served the American public, let alone Democrats, well... A worthy contribution to the ongoing American experiment." —BOOKLIST

"Blueprints to make sure that Republicans never force the rest of the country into their most nightmarish fantasies." —GQ

"There are more of us than there are of them, so let's fight like it: resist Trump and embolden the Democrats. It's Time to Fight Dirty is our roadmap to a fairer democracy and an America we want to live in. If we listen to David Faris, it's a fight we can win." —David Daley, author of Ratf**ked

"Go get the book. Read it for yourself. This is the playbook, this is what we need to do, this is how we draw the line." —THE BENJAMIN DIXON SHOW

"A playbook the left can use to get more power without having to change the Constitution, and they can do a lot."  —Ezra Klein, VOX

Melville House, 9781612196954, 208pp.
Publication Date: April 10, 2018
About the Author
David Faris is the author of Dissent and Revolution in a Digital Age: Social Media, Blogging and Activism in Egypt, the co-editor of Social Media in Iran: Politics and Society after 2009, and a regular contributor to The Week. He is associate professor of political science at Roosevelt University in Chicago.
or
Not Currently Available for Direct Purchase