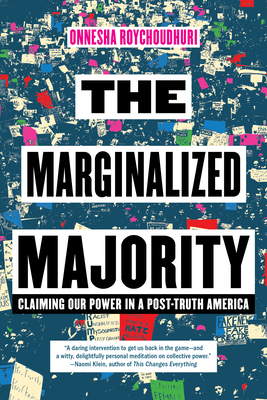 The Marginalized Majority (Paperback)
Claiming Our Power in a Post-Truth America
Melville House, 9781612196992, 224pp.
Publication Date: July 10, 2018
Other Editions of This Title:
Compact Disc (7/10/2018)
MP3 CD (7/10/2018)
Compact Disc (7/10/2018)
* Individual store prices may vary.
Description
"This book is a daring intervention to get us back in the game—and a witty, delightfully personal meditation on collective power." —Naomi Klein
 
The energy on the left has never been higher. But because there are so many issues to tackle, each one more urgent and divisive than the next, some say progressives will once again fail to seize the moment and gain real power. But what if we're getting the story all wrong?
 
In The Marginalized Majority, Onnesha Roychoudhuri makes the galvanizing case that our plurality of identities is not only our greatest strength, but is also at the indisputable core of successful progressive change throughout history.
 
From the civil rights movement to the Women's March, mainstream media to Saturday Night Live, Roychoudhuri illuminates how historical narratives are written and, by holding the myths about our disenfranchisement up to the light, reveals we have far more power than we're often led to believe. With both clear-eyed hope and electrifying power, she examines our ideas about what's possible, and what's necessary—opening up space for action, new realities, and, ultimately, survival.
 
Now, Roychoudhuri urges us, is the time to fight like the majority we already are.
About the Author
Onnesha Roychoudhuri is a Brooklyn-based writer, editor, and educator. Her work has appeared in publications such as Rolling Stone, n+1, the Virginia Quarterly Review, Boston Review, The Nation, The American Prospect, Salon, and Mother Jones. She is the co-founder of Speech/Act, and organization working at the intersection of storytelling and social justice.
Praise For The Marginalized Majority: Claiming Our Power in a Post-Truth America…
"We have the numbers, strength, and vision to beat back the resurgent right and set a new people's agenda. But it won't happen until we start telling new stories about change, shedding the tired ones that have silenced and demoralized us. This book is a daring intervention to get us back in the game—and a witty, delightfully personal meditation on collective power." —Naomi Klein, author of The Shock Doctrine

"The Marginalized Majority is a must-read for anyone who cares about progressive politics. Onnesha Roychoudhuri weaves the personal and the political together expertly; she's written a compelling and brilliant book that will help light the way forward." —Jessica Valenti, author of Sex Object: A Memoir

"A timely reminder of who shaped American history in its darkest moments—not the entitled minority, but the marginalized majority. This is a deep meditation on #MeToo, American racism, and the power of truth-tellers, in the company of someone who can shut down a subway bigot by leading a traincar of people in song. Give this book to anyone who could do with a jolt of that kind of creativity, intellect, and joy." —Raj Patel, co-author of A History of the World In Seven Cheap Things

"At last, the book we've been needing: Onnesha Roychoudhuri elegantly dismantles the myths surrounding identity politics, offering a fresh and clear-eyed vision of democratic renewal. A vital call to action and connection, The Marginalized Majority shows the far-reaching power we can have if we're bold enough to claim it." —L.A. Kauffman, author of Direct Action

"For too long, a privileged, pale, male minority have long claimed to speak for America. But as Onnesha Roychoudhuri shows, they are in fact profoundly out of touch with a society that's increasingly progressive and diverse. This book is a clear-eyed pep talk for those who stand on the brink of despair and a welcome reminder that a new, true majority has the potential to rise up and change the world." —Astra Taylor, author of The People's Platform

"A stirring defense of 'identity politics' and the need to reclaim narratives as well as a powerful account of the transformation of a journalist into an activist ... Combines the reporting chops of an experienced journalist with literary flair and a conversational, common-sense approach that seems far more heartfelt than dogmatic ... persuasive and engaging." —*STARRED* Kirkus Review

"A powerful discussion about identity politics in an increasingly progressive and diverse society."—Book Riot

"A portrait of the current American political scene, filtered through [Roychoudhuri's] multifaceted personal perspective ... [The Marginalized Majority] offers every reason to stay involved, connect with others and refuse to give in." —Shelf Awareness

"Aims to reclaim the term while also making a compelling case for how minorities can harness their political power and elect legislators who reflect our interests."—Bitch Magazine

"[A] potent activist manifesto and deconstruction of the myths surrounding identity politics... It's the most memorable book I've read in the past few months."—Eric Liebetrau, Kirkus Reviews

"Want to know how to get involved? Want to know how to fight back? Read The Marginalized Majority. It will completely change the way you think about our current political climate."—Hello Giggles

"A call to arms during the Trump era... a stringent critique on collective power."—Asian American Writers Workshop

"In The Marginalized Majority, journalist Onnesha Roychoudhuri reflects on how marginalized people hold the power to alter the course of history." —Colorlines

"Roychoudhuri takes cynicism to task... With an astute intersectional lens and careful analysis, Roychoudhuri reminds us that we are the majority and that we always have power—no matter how hopeless things might seem." —The Rumpus

"Engaging, compelling, and smart reading. Recommended, particularly to those feeling discouraged in the current political climate."—San Francisco Book Review