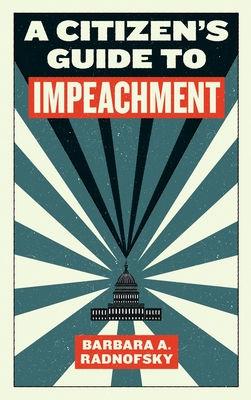 A Citizen's Guide to Impeachment
Paperback

* Individual store prices may vary.
Description
A non-partisan guide to a precise understanding of the rules and history of impeachment . . .

Spotlighting in particular the precise rules of impeachment—including an explanation of the crucial grounds for impeachment, the famous "high crimes and misdemeanors"—the book also details its origins in British law, the rules as set out by the founding fathers in the Constitution, and their application throughout the history of our democracy.

That history involves a detailed chronology of the nineteen instances of impeachment that have taken place—of judges, presidents, and officials from the cabinet and congress—throughout American history, including the very first impeachment conviction of an America official: that of a federal judge who seemed to have developed dementia.

All of which makes A Citizen's Guide to Impeachment a fascinating read about a unique aspect of our democracy, as well as a useful, one-of-a-kind guide for citizens in a participatory government.
Melville House, 9781612197050, 160pp.
Publication Date: September 12, 2017
About the Author
Barbara A. Radnofsky was the first woman in Texas history to run as the Democratic nominee for the U.S. Senate in 2006 and the first, also, to run as the Democratic nominee for Texas Attorney General in 2010. A magna cum laude graduate of the University of Houston, where she enrolled at age sixteen, and the University of Texas School of Law, Radnofsky has practiced law for nearly four decades and lives in Houston.
or
Not Currently Available for Direct Purchase