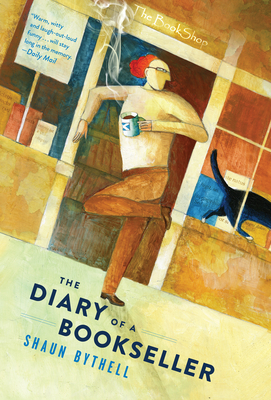 The Diary of a Bookseller (Hardcover)
Melville House, 9781612197241, 320pp.
Publication Date: September 4, 2018
Other Editions of This Title:
Paperback (7/16/2019)
Compact Disc (9/4/2018)
MP3 CD (9/4/2018)
Compact Disc (9/4/2018)
* Individual store prices may vary.
Description
A WRY AND HILARIOUS ACCOUNT OF LIFE AT A BOOKSHOP IN A REMOTE SCOTTISH VILLAGE

"Among the most irascible and amusing bookseller memoirs I've read." --Dwight Garner, New York Times

"Warm, witty and laugh-out-loud funny..."—Daily Mail

The Diary of a Bookseller is Shaun Bythell's funny and fascinating memoir of a year in the life at the helm of The Bookshop, in the small village of Wigtown, Scotland—and of the delightfully odd locals, unusual staff, eccentric customers, and surreal buying trips that make up his life there as he struggles to build his business . . . and be polite . . .

When Bythell first thought of taking over the store, it seemed like a great idea: The Bookshop is Scotland's largest second-hand store, with over one hundred thousand books in a glorious old house with twisting corridors and roaring fireplaces, set in a tiny, beautiful town by the sea. It seemed like a book-lover's paradise . . .
 
Until Bythell did indeed buy the store.
 
In this wry and hilarious diary, he tells us what happened next—the trials and tribulations of being a small businessman; of learning that customers can be, um, eccentric; and of wrangling with his own staff of oddballs (such as ski-suit-wearing, dumpster-diving Nicky). And perhaps none are quirkier than the charmingly cantankerous bookseller Bythell himself turns out to be.

But then too there are the buying trips to old estates and auctions, with the thrill of discovery, as well as the satisfaction of pressing upon people the books that you love . . .

Slowly, with a mordant wit and keen eye, Bythell is seduced by the growing charm of small-town life, despite —or maybe because of—all the peculiar characters there.
About the Author
Shaun Bythell is the owner of The Bookshop in Wigtown, Scotland. The Diary of a Bookseller is his first book.
Praise For The Diary of a Bookseller…
"Among the most irascible and amusing bookseller memoirs I've every read." —Dwight Garner, THE NEW YORK TIMES
 
"Warm and funny, and deserves to become one of those bestsellers that irritate [Bythell] so much." —MAIL ON SUNDAY

"It is hysterical. Anything that anyone ever wanted to know about what a bookseller really thinks is in here."—Caitlin Luce Baker, University Bookstore

"Outspoken, hilarious and thought-provoking... It's the best inducement I've ever come across to set aside my occasional flirtation with e-readers, walk into a bookstore and get my hands on the real thing." —BOOKREPORTER

"Often hilarious... The Diary of a Bookseller is a charming mix of wacky characters and caustic diatribe, an ode to that perilous trade." —THE RECORD

"For anyone who has ever dreamed of owning a bookstore. Bythell's hilarious account will have those in the industry crying and those otherwise employed dropping their resume off at their local indie." —SAN FRANCISCO CHRONICLE

"Excruciatingly funny." —BOOKLIST

"Makes for entertaining reading... he has a keen waggishness which makes his reflections funny and memorable and this book a hoot." —MEMPHIS FLYER


"Bythell writes with biting humor... Bythell is a man on a mission, and a year seen through his eyes convinces the reader that it is a mission worthy of undertaking." —CHICAGO TRIBUNE


 "With wit and humility, Bythell, owner of a used bookshop in Wigtown, Scotland, chronicles a year in the life of a bookseller... Bythell's narrative is lively and intelligent." —PUBLISHERS WEEKLY

"Sure to bring book lovers chuckles, nods of recognition and a surge of hope for bookshops everywhere." —SHELF AWARENESS

"A cheerfully depressing account of independent bookselling today -- deadpan, ruthless, poignant, and at times, so charing it's almost unbelievable… surprisingly touching." —QUARTZ

"Entertaining and dryly humorous...  the book is fascinating." —MINNEAPOLIS STAR TRIBUNE

"Warm, witty and laugh-out-loud funny…will stay long in the memory." —DAILY MAIL
 
"Wonderfully entertaining." —THE OBSERVER (London)
 
"Peopled with fascinating characters . . . laugh-out-loud funny." —SUNDAY HERALD