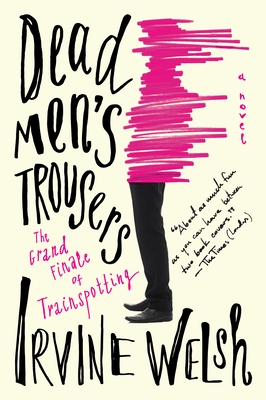 Dead Men's Trousers
Hardcover

* Individual store prices may vary.
Description
The International Bestseller from the author The New York Times called "blisteringly funny" — it's the wild and wooly crew from Trainspotting back for one last adventure

You don't need to have seen the blockbuster movie—nor read the earlier mega-bestselling books—to get what's going on in Dead Men's Trousers: Four no-longer-young men who constantly think back to their bawdy, drug-filled youth together on the streets of Edinburgh, decide they want to join forces for one last caper.

Careful what you wish for...

"Manages a sort of ragged glory, a life-affirming comic energy . . .
A whooping last hurrah for the Trainspotting gang."
—The Guardian

"Crackles with idiomatic energy and brio." —Publishers Weekly

Mark Renton is finally a success. He now makes significant money managing DJs, but the constant travel, airport lounges, soulless hotel rooms, and broken relationships have left him dissatisfied with life.

Then he runs into his old partner in crime, Frank Begbie, from whom he'd been hiding for years. But the psychotic Begbie appears to have reinvented himself as a celebrated artist in Los Angeles, and doesn't seem interested in revenge.

Meanwhile, back in Edinburgh, Sick Boy and Spud are intrigued to learn that their old friends are back in town, and concoct a new scheme for them all . . .

Which is when things start to go horribly wrong. The four men, driven by their personal histories and addictions, circle each other, confused, angry, and desperate. One of these four will not survive . . . Which one is wearing Dead Men's Trousers?
Fast and furious, scabrously funny, and weirdly moving, this is a spectacular return of the crew from Trainspotting.
Praise For Dead Men's Trousers…
"[A] fitting send-off... When he's at his best, Welsh spins a story of four men broken by addiction and betrayal; old friends who've shared their youths, somehow lived through them, and just can't quite seem to let go." - NPR

"Unfolds like a Keystone Kops version of Ocean's 11... Welsh's entire oeuvre crackles with idiomatic energy and brio, and this rollicking novel is no different." - Publishers Weekly

"Raunchy, profane, violent, and frequently hilarious... Dead Men's Trousers delivers a strangely life-affirming dose of dark absurdity, ensuring that, if this is the last we see of these characters, they won't soon be forgotten." - *starred* Booklist review

"Welsh's peculiar talent is finding the comedy in sex, addiction, betrayal, and death, and he handles the job so deftly that the novel nearly qualifies as comfort reading even in gross-out mode." - Kirkus Reviews

Earlier praise for Welsh and his writing:

"Blisteringly funny.... " - New York Times Book Review

"It is funny, unflinchingly abrasive, authentic, and inventive, unerringly on-and off-the pulse. It is a true cult, the kind of novel you press on perfect strangers. It validates a world fiction hasn't recognized before." - Time Out

"Irvine Welsh writes with skill, wit, and compassion that amounts to genius. He is the best thing that has happened to British writing in decades." - Nick Hornby, Sunday Times

"Irvine Welsh writes with style, imagination, wit, and force, and in a voice which those alienated by much current fiction clearly want to hear." - Times Literary Supplement

"Irvine Welsh is the real thing-a marvelous admixture of nihilism and heartbreak, pinpoint realism (especially in dialect and tone) and almost archetypal universality." - David Foster Wallace


Melville House, 9781612197555, 432pp.
Publication Date: February 26, 2019
About the Author
Irvine Welsh was born in Edinburgh, Scotland, the scene of his first book: the hugely successful Trainspotting. That book shot Welsh to fame, precipitated further by the release of the film version by Danny Boyle. Since then he has written eight other works of fiction, including Rave and The Blade Artist. He currently lives in the United States.
or
Not Currently Available for Direct Purchase