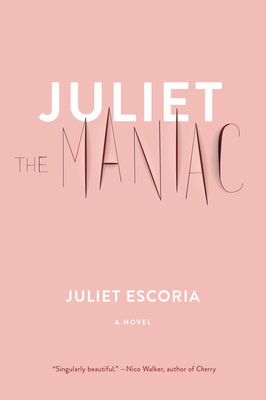 Juliet the Maniac
A Novel
Paperback

* Individual store prices may vary.
Other Editions of This Title:
Digital Audiobook (6/17/2019)
Compact Disc (6/18/2019)
MP3 CD (6/18/2019)
Description
"For fans of Ottessa Moshfegh, Juliet the Maniac is a worthy new entry in that pantheon of deconstruction... Dazzling."—NEW YORK TIMES BOOK REVIEW
 
This portrait of a young teenager's fight toward understanding and recovering from mental illness is shockingly honest, funny, and heartfelt.
 
Ambitious, talented fourteen-year-old honors student Juliet is poised for success at her Southern California high school. However, she soon finds herself in an increasingly frightening spiral of drug use, self-harm, and mental illness that lands her in a remote therapeutic boarding school, where she must ultimately find the inner strength to survive.
 
A highly anticipated debut—from a writer hailed as "a combination of Denis Johnson and Joan Didion" (Dazed)—that brilliantly captures the intimate triumph of a girl's struggle to become the woman she knows she can be.
Praise For Juliet the Maniac: A Novel…
A Bustle MOST ANTICIPATED NOVEL of 2019
A Nylon MOST ANTICIPATED NOVEL of 2019
 
"For fans of Ottessa Moshfegh, Juliet the Maniac is a worthy new entry in that pantheon of deconstruction ... Dazzling."—NEW YORK TIMES BOOK REVIEW
 
 "To read Juliet the Maniac is to confront our shared faith in the flawed logic of life's meaning, and by so doing, become worthier of our humanity …  a gift to any reader who has ever lost control, sighted a horizon and began moving toward it."—THE WASHINGTON POST
 
"Juliet the Maniac is a wild ride of a book, and I was rooting for Juliet every page
along the way."—CHICAGO REVIEW OF BOOKS
 
"A force that shouldn't be ignored — an illuminating examination of youth and soul-crushing pressure."—BUZZFEED
 
"[With] heft and a sense of authenticity, Escoria earns the readers' trust early ... Juliet the Maniac is a heartfelt, raw, powerfully told story about surviving mental illness and learning to cope with inner demons."—NPR.org
 
"Escoria's descriptions are moving ... It's the electricity that pulsates from within the prose. [A] fire burning inside."—BOMB
 
"Juliet Escoria has created a propulsive, addictive story … told with a singular honesty; it can feel brutal—it burns—but it's also illuminating, and a necessary counterpoint to all those teenage stories that marginalize the girl we actually want to read about."—NYLON
 
"[An] exciting first novel … Juliet the Maniac is one of those coming-of-age stories that will feel so darn personal, you'll wonder if Escoria had a secret recording device in your own teenage heart."—BUSTLE
 
"An author to watch."—MICHAEL SCHAUB, LOS ANGELES TIMES 
 
"Writing about emotional turmoil and addiction with a sharp, charged eloquence, Juliet Escoria … is an up-and-coming author."—THE A.V. CLUB
 
"Achingly accurate language, stripped down but beautiful, makes this story fresh and forthright."—LIBRARY JOURNAL
 
"Searing ... reminiscent of Eve Babitz's work ... Escoria's novel is a moving and intimate portrait of girlhood and mental illness."—PUBLISHERS WEEKLY
 
"Vivid, fantastic imaginings ... of mental illness and disaffected youth."—KIRKUS REVIEWS
 
"A startlingly honest tale of mental illness and addiction ... Escoria cements her status as one of the most powerful voices in independent literature."—THE INDEPENDENT
 
"Escoria here delivers a coming-of-age novel about teenage life and mental illness that's also an explosive work of autofiction. With bold honesty, she tells an unforgettable story that's unhindered by romanticism in its unabashed portrayal of Juliet's darkest struggles."—BOOKLIST
 
"Escoria weaves a story that isn't just relatable to those with mental illness, but really illustrates what it's like for those readers who don't have it …  Escoria's writing traces the scars in this book with a gentle fingertip, capturing the moments with a dream-like clarity, watching them unfold, knowing what the consequences will be."—ENTROPY
 
"Brims with dark humor and empathy"—POP SUGAR
 
"You don't want to miss Juliet the Maniac ... It's a stunning portrayal of what it's like to struggle with bipolar disorder, self-harm, and suicidal thoughts as a teenager."—HELLO GIGGLES
 
"A searing, harrowing tale of addiction, the teenage years, and antisocial behavior, all told with Escoria's intense prose and a blend of tension and empathy."—VOL. 1 BROOKLYN
 
"Equal parts memoir and fiction, we're given a peek inside the mind of a bright and accomplished teen—despite her perceived odds. Pro tip: Pick this one up when you're feeling lonely. (You're not, we'll figure it out.)"—HYPEBAE
 
"Juliet the Maniac is a dark, funny, and heartbreaking portrait of a young teenager's clash with mental illness and her battle toward understanding and recovery."—THE FANZINE
 
"A singularly beautiful piece of work—honest, unaffected, fascinating."—NICO WALKER, author of Cherry
 
"Not since Kathy Acker has a writer given us such an unapologetic and dazzling view from the inside-out of adolescence. A voice and style triumph. A brilliant cry against cultural girl inscriptions."—LIDIA YUKNAVITCH, author of The Book of Joan
 
 "Juliet Escoria's voice is unmistakable: riveting, harrowing, and funny. In Juliet the Maniac, she tells a story about addiction and mental illness that subverts our expectations and reveals new truths about gender, power, and the unexpected ways we can both heal and be harmed."—EMILY GOULD, author of Friendship
 
"Juliet the Maniac is a late-nineties Bell Jar, a Girl, Interrupted in gloomy sunny Southern California, an autofiction from a former reform-school pirate princess. Teenage girls forever (and other people who exist, too): Read this book."—KATHERINE FAW, author of Ultraluminous

Melville House, 9781612197593, 336pp.
Publication Date: May 7, 2019
About the Author
JULIET ESCORIA is the author of the poetry collection WITCH HUNT and the story collection BLACK CLOUD. She lives in West Virginia with her husband, the writer Scott McClanahan.