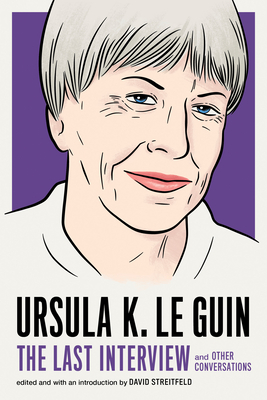 Ursula K. Le Guin
The Last Interview: and Other Conversations (The Last Interview Series)
Paperback

* Individual store prices may vary.
Other Editions of This Title:
Hardcover (10/6/2020)
Boxed Set (9/5/2017)
Hardcover (4/3/2018)
Hardcover (9/5/2017)
Hardcover (2/19/2019)
Hardcover (9/5/2017)
Hardcover (9/6/2016)
Description
"Resistance and change often begin in art. Very often in our art, the art of words."
—Ursula K. Le Guin
 
When she began writing in the 1960s, Ursula K. Le Guin was as much of a literary outsider as one can be: a woman writing in a landscape dominated by men, a science fiction and fantasy author in an era that dismissed "genre" literature as unserious, and a westerner living far from fashionable East Coast publishing circles. The interviews collected here—spanning a remarkable forty years of productivity, and covering everything from her Berkeley childhood to Le Guin envisioning the end of capitalism—highlight that unique perspective, which conjured some of the most prescient and lasting books in modern literature.
Praise For Ursula K. Le Guin: The Last Interview: and Other Conversations (The Last Interview Series)…
"I'll miss her. Literature will miss her. There's no one like her." —Zadie Smith

"She was one of the giants. A gifted storyteller, dedicated to her art, she influenced a whole generation of writers who came after her, including me." —George R. R. Martin

"We can't call Ursula K. Le Guin back from the land of the unchanging stars, but happily she left us her multifaceted work, her hard-earned wisdom and her fundamental optimism. Her sane, smart, crafty, and lyrical voice is more necessary now than ever." —Margaret Atwood

"I learn more from her books at every stage of life than from any other writer: she bears rereading well." —Neil Gaiman
Melville House, 9781612197791, 208pp.
Publication Date: February 5, 2019
About the Author
Ursula Kroeber Le Guin (1929-2018) was born in Berkeley, California and lived in Portland, Oregon. She published more than twenty novels, eleven volumes of short stories, six collections of essays, twelve books for children, six volumes of poetry and four of translation.

David Streitfeld is the editor of The Last Interview books on Gabriel Garcia Marquez, Philip K. Dick, J.D. Slinger, and Hunter S. Thompson. He is a reporter for The New York Times, where in 2013 he was part of the team awarded the Pulitzer Prize for Explanatory Reporting. He lives in the San Francisco Bay Area with his family and too many books.