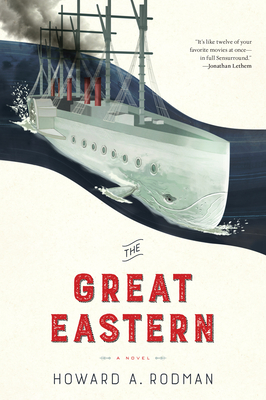 The Great Eastern
Hardcover

* Individual store prices may vary.
Description
A dazzling, inventive literary adventure story in which Captain Ahab confronts Captain Nemo and the dark cultural stories represented by both characters are revealed in cliffhanger fashion.

A sprawling adventure pitting two of literature's most iconic anti-heroes against each other: Captain Nemo and Captain Ahab. Caught between them: real-life British engineer Isambard Kingdom Brunel, builder of the century's greatest ship, The Great Eastern. But when he's kidnapped by Nemo to help design a submarine with which to fight the laying of the Translatlantic cable - linking the two colonialist forces Nemo hates, England and the US - Brunel finds himself going up against his own ship, and the strange man hired to protect it, Captain Ahab, in a battle for the soul of the 19th century.
Praise For The Great Eastern…
"An absolutely ingenious premise propels this audacious adventure into surprising and thrilling territory, where history twists and braids itself like the transatlantic cable at the heart of this epic narrative. Howard Rodman's powers of invention, connective synthesis, and grim humor are matched only by his literary ventriloquism and psychological insight. This kaleidoscopic tall tale is a ready-made binge-read!"—Steven Soderbergh
 
"A helluva great story."—Jake Gyllenhaal
 
"Seriously, this is the sort of thing that readers of China Mieville or Alan Moore or Eleanor Catton should gobble up (it also has hints of my beloved George MacDonald Fraser, but I realize that's not a name anyone throws around anymore). A historical phantasmagoria and ripping adventure done as a game of hide-and-seek. It's like twelve of your favorite movies at once, in full sensurround."—Jonathan Lethem
 
"Howard Rodman's The Great Eastern is a book of confabulations, real and imagined. Surprises on every page.  A splendid and notable achievement."—Ricky Jay

"The ultimate confluence of the nineteenth-century, its technological advances, anti-heroes, and crimes. Howard Rodman's swashbuckling adventure pits Herman Melville's Captain Ahab against Jules Verne's Captain Nemo in a very real struggle for the future. Rodman weaves his sly picaresque around the actual story of the British engineer Isambard Kingdom Brunel,  builder of the century's greatest ship, and its mission to lay down the Transatlantic cable forever linking the great colonial powers of the time."—Walter Mosley
 
 "Wildly inventive and richly imagined historical fiction that mashes up fact with the fantastic to create a singular, original reading experience.  I loved it."—Mark Haskell Smith
 
"A weird and wondrous adventure, chock full of rich, commanding prose detailing the clash between arrogant geniuses of considerable ego, and the historical ripples such a clash imparts. Reminiscent in all the best ways of Robert McCammon's Matthew Corbett books."—Chuck Wendig
 
"Not another scrivener alive or dead but Rodman – lyrical and witty, erudite and passionate, dare we say rapturous, dare we say obsessed – could have charted let alone helmed this singular, exhilarating flying-Dutchman of an epic."—Steve Erickson
 
"Three cheers for Howard Rodman's ripping adventure, The Great Eastern! Outrageous linguistic brio gives pleasure line by line, while the story keeps the pages flying. A tour de force fantasy where science meets human obsession."—Janet Fitch, author of White Oleander
Melville House, 9781612197852, 352pp.
Publication Date: June 4, 2019
About the Author
Howard A. Rodman is Past President of the Writers Guild of America West; a professor of screenwriting at USC's School of Cinematic Arts; and an artistic director of the Sundance Screenwriting Labs. Among his screenwriting credits, he wrote SAVAGE GRACE, starring Julianne Moore and Eddie Redmayne, and AUGUST, featuring Josh Hartnett, Naomie Harris, Rip Torn, and David Bowie. He also wrote JOE GOULD'S SECRET, the opening night film of the Sundance Film Festival. Rodman's previous novel, DESTINY EXPRESS, was set in the pre-War German filmmaking community: Thomas Pynchon called it "daringly imagined, darkly romantic--a moral thriller."