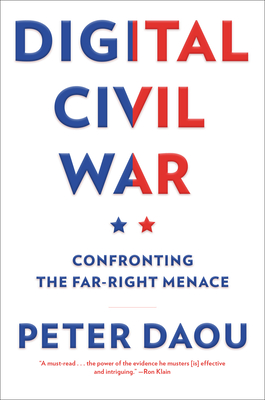 Digital Civil War (Hardcover)
Confronting the Far-Right Menace
Melville House, 9781612197876, 288pp.
Publication Date: April 30, 2019
Other Editions of This Title:
Compact Disc (4/30/2019)
* Individual store prices may vary.
Description
A frontline account of the social media battles raging between red and blue Americans – and how to find moral clarity in the chaos of digital civil war. 

Are rural white Christians the real Americans? Should teachers be armed or should the Second Amendment be repealed? Is abortion murder or an ethically sound choice for women? Should migrant babies be caged or should ICE be abolished? Should billionaires exist while children go hungry?

These are some of the bitter ideological disputes that have turned social media into a political battlefield. In Digital Civil War, Peter Daou, a veteran digital-media adviser to presidential candidates, investigates the underlying value systems and moral arguments of the warring parties, arguing that democracy itself is under assault by an emboldened and empowered Far Right.

Daou shows how the digital civil war is waged with words and images that are designed to inflict psychological harm, to injure through verbal violence, to wreak havoc with rhetoric. And he explains that the relentless toxicity of social media – often treated as an aberration – is a feature, not a bug, of digital warfare.
About the Author
PETER DAOU is an American raised in Beirut, where he survived the Lebanese Civil War to rise to the top of U.S. politics, serving as a digital-media strategist in two presidential campaign war rooms. He has advised major political figures, including Hillary Clinton and John Kerry, and was described by The New York Times as "one of the most prominent political bloggers in the nation."
Praise For Digital Civil War: Confronting the Far-Right Menace…
"If you want to understand how the Far Right is using social media to divide our country, deny science, disseminate hate, and destroy civil liberties, Peter Daou's book is a must-read. No one will agree with everything in it, or all of his conclusions – but the power of the evidence he musters and the direct, straightforward way he makes his cases are effective and intriguing. Whether you are an 'innocent bystander' or 'in the trenches' of today's Digital Civil War, you will learn something new and something interesting by reading this book." —Ron Klain, former chief of staff under vice presidents Joe Biden and Al Gore

"Beautifully written and absolutely frightening. Peter Daou masterfully explores how the no-holds-barred battles on social media, which have framed the reality for millions of people, will be crucial in determining if American democracy has the strength to pull itself up from the precipice or plunge into a right-wing abyss."—Carol Anderson, author of White Rage: The Unspoken Truth of our Racial Divide  

"Chilling. Having experienced many years in different combat zones and having seen physical destruction, I can say that the intellectual, emotional, and psychological devastation occurring in this digital civil war poses an exponentially greater threat to our existence. Peter Daou shows how values like compassion, equality, and belief in the ideas found in our Constitution are now somehow being thwarted by pretenders who call themselves 'real Americans.' An important book."—Mark Hertling, former Commanding General of U.S. Army Europe