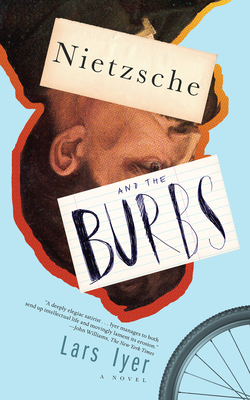 Nietzsche and the Burbs
Paperback

* Individual store prices may vary.
Description
In a work of blistering dark hilarity, a young Nietzsche experiences life in a metal band & the tribulations of finals season in a modern secondary school

When a new student transfers in from a posh private school, he falls in with a group of like-minded suburban stoners, artists, and outcasts—too smart and creative for their own good. His classmates nickname their new friend Nietzsche (for his braininess and bleak outlook on life), and decide he must be the front man of their metal band, now christened Nietzsche and the Burbs.

With the abyss of graduation—not to mention their first gig—looming ahead, the group ramps up their experimentations with sex, drugs, and...nihilist philosophy. Are they as doomed as their intellectual heroes? And why does the end of youth feel like such a universal tragedy?

And as they ponder life's biggies, this sly, elegant, and often laugh-out-loud funny story of would-be rebels becomes something special: an absorbing and stirring reminder of a particular, exciting yet bittersweet moment in life...and a reminder that all adolescents are philosophers, and all philosophers are adolescents at heart.
Praise For Nietzsche and the Burbs…
"Nietzsche and the Burbs is an anthem for young misfits and a hilarious, triumphant book about friendship."—Michael Schaub, NPR

"This is a near-perfect evocation of childhood's elegiac end."—Michael M. Grynbaum, New York Times 

"What a fun book this is! Delight is such a rare commodity nowadays and it is terrific to see it has not been hunted to extinction." —Daniel Handler, author of Bottle Grove

"Vivid, tickling and spry."—Leo Robson, Guardian

"Lyrical and often moving... an affectionate satire on intellectual life."—Andrew Irwin, Times Literary Supplement 

"Like Iyer's previous fiction, Nietzsche and the Burbs is a novel of ideas ...[a] rollicking coming-of-age tale"—Calum Barnes, Morning Star

"Touching in its depiction of the hierarchies, bullying and moral apathy of the young... like a grunge version of Lucky Jim."—Stuart Kelly, The Scotsman

"A rock-music caper loaded with adolescent yearning ... pithy dialogue ... evocatively rendered ..."—Houman Barekat, Sunday Times (London)

"Punk rock and philosophy coincide in the latest novel from Lars Iyer. . . . Do you like smart observations about class and coming of age? How about some metal in the mix? Well then — welcome to the world of Nietzsche and the Burbs."—Vol. 1 Brooklyn

"Hilarious, powerful and intensely enjoyable."—Daniel Fraser, Dublin Review of Books

"Readers ... will delight in its wit. A model of originality. Clever, indeed" —Booklist



Praise for Lars Iyer

"Fearsomely funny." — THE WASHINGTON POST

"[Iyer] is a deeply elegaic satirist...He manages to both send up intellectual life and movingly laments its erosion." — John Williams, THE NEW YORK TIMES

"Viciously funny." — THE SAN FRANCISCO CHRONICLE

"I'm still laughing, and it's days later." — LOS ANGELES TIMES

"Stunning...absolutely exquisite." — Emily St. John Mandel, author of Station Eleven

"It's made me feel better about the Apocalypse than I have in ages." — Hari Kunzru, author of White Tears
Melville House, 9781612198125, 352pp.
Publication Date: December 3, 2019
About the Author
LARS IYER is a Reader in Creative Writing at Newcastle University, where he was formerly a longtime lecturer in philosophy. He is the author of the novels in the Spurious Trilogy, and more recently the widely acclaimed Wittgenstein Jr.
or
Not Currently Available for Direct Purchase