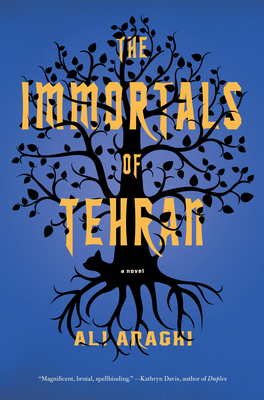 The Immortals of Tehran
Hardcover

* Individual store prices may vary.
Other Editions of This Title:
Digital Audiobook (4/6/2020)
Paperback (4/13/2021)
Description
"A highly recommended literary page-turner worth a second reading; fans of Gabriel García Márquez will delight in this fantastical—and fantastic novel."—Library Journal, starred review

"Impactful . . .  Araghi's skillful combination of revolutionary politics and magical realism will please fans of Alejo Carpentier."—Publishers Weekly

A sweeping, multigenerational epic, this stunning debut heralds the arrival of a unique new literary voice.

As a child living in his family's apple orchard, Ahmad Torkash-Vand treasures his great-great-great-great grandfather's every mesmerizing word. On the day of his father's death, Ahmad listens closely as the seemingly immortal elder tells him the tale of a centuries-old family curse . . . and the boy's own fated role in the story.

Ahmad grows up to suspect that something must be interfering with his family, as he struggles to hold them together through decades of famine, loss, and political turmoil in Iran. As the world transforms around him, each turn of Ahmad's life is a surprise: from street brawler, to father of two unusually gifted daughters; from radical poet, to politician with a target on his back. These lives, and the many unforgettable stories alongside his, converge and catch fire at the center of the Revolution.

Exploring the brutality of history while conjuring the astonishment of magical realism, The Immortals of Tehran is a novel about the incantatory power of words and the revolutionary sparks of love, family, and poetry--set against the indifferent, relentless march of time.
Praise For The Immortals of Tehran…
A most anticipated book of 2020 from The Millions
 
A most anticipated book of 2020 from Paste Magazine
 
A most anticipated historical fiction book of 2020 from Book Riot


"This superb debut follows an extended Iranian family through feline curse, daily survival, unintended betrayals and the transformative power of language." —Shelf Awareness

"Ali Araghi's staggering debut is a book about time, about stories, about what time and stories can and cannot do to save us. It's a book about how wars, and nations, are made—not out of violence, but out of the people upon whom the violence preys. It's about family, inheritance, language, fate. It's a book about me. It's a book about you, too." —Kaveh Akbar, author of Pilgrim Bell


"Refreshingly, wondrously ambitious. Here is a novel with heft, confidently mining all the layers and complexities of history, family, and magic at once Marquezian and all its own. I loved my time in these pages. The Immortals of Tehran creates a whole world." —Clare Beams, author of The Illness Lesson

"What a joy to lose oneself in an Iranian magical realist multi-generational family epic! Araghi's moving tale is unforgettable in its twists and turns. The personal and the political are perfectly intertwined in the way only Iranians know all too well. This novel deserves its own rung on the Iranian fiction canon!" —Porochista Khakpour, author of Brown Album

"Ali Araghi's stunning debut novel gives us what the so-called news can't provide, a portal into the heart of the place we think we know as Iran. Araghi's is the Iran of One Thousand and One Nights and he is our Scheherazade, the tale he's telling is magnificent, brutal, spellbinding, as well as being—like Scheherazade's—crucial to survival." —Kathryn Davis, author of Duplex

"The Immortals of Tehran gives its readers hope and a feeling of transcendence, through incandescent language, and with the perspective of Ahmad, a truly unforgettable protagonist. A balm for the soul, and a book for a transforming world." —Michael J. Seidlinger, author of Dreams of Being
 
"A captivating story filled with magical historical twists. Ali Araghi creates a family saga that introduces us to characters whose bonds with one another, along with their faith in the power of words, help them not only to survive the turmoils of history, but also to be remembered." —Poupeh Missaghi, author of trans(re)lating house one

"Iran is a complicated country with a tumultuous history that defies linear narratives and simple explanations. A compelling literary portrait of Iran can only be drawn in a uniquely complex, ambitious, and vast novel. Very few books have fulfilled this goal as impressively as Ali Araghi's The Immortals of Tehran."  —Amir Ahmadi Arian, author of Then the Fish Swallowed Him

"Tinged with satire, Ali Araghi produces a cleverly fabled history of Iran, echoing a rich tradition of storytelling in a modern, original voice. Bold, unflappable and endearing characters will sweep readers along on an epic journey with political and social resonance today."  —Sahar Mustafah, author of The Beauty of Your Face
 
"An amazing literary debut that reads like the work of a master. Ali Araghi has created a powerful, touching story about the intersection of love, art and politics, and how they reverberate across generations. This is a book that is both timeless and for our troubled times, a portrait of contemporary Iranian history as seen through the eyes of those who have experienced it—it should be required reading in the United States." —Saïd Sayrafiezadeh, author of When Skateboards Will Be Free
Melville House, 9781612198187, 400pp.
Publication Date: April 7, 2020
About the Author
Ali Araghi is an Iranian writer and translator. He won the 2017 Prairie Schooner Virginia Faulkner Award for Excellence in Writing and has published stories and translations in Prairie Schooner, Fifth Wednesday Journal, Asymptote, and Hayden's Ferry Review, among others. He lives in St. Louis.