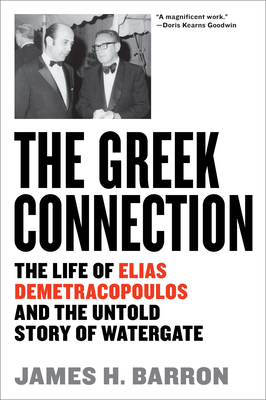 The Greek Connection
The Life of Elias Demetracopoulos and the Untold Story of Watergate
Hardcover

* Individual store prices may vary.
Other Editions of This Title:
Digital Audiobook (7/27/2020)
Description
Spanning from WWII to the Cold War and beyond, this is the "magnificent . . . triumphant" biography of the investigative journalist, resistance fighter, and whistle blower who helped expose the Watergate scandal (Doris Kearns Goodwin, author of Leadership)

He was one of the most fascinating figures in 20th-century political history. Yet today, Elias Demetracopoulos is strangely overlooked—even though his life reads like an epic adventure story . . .

As a precocious twelve-year-old in occupied Athens, he engaged in heroic resistance efforts against the Nazis, for which he was imprisoned and tortured. After his life was miraculously spared, he became an investigative journalist, covering Greece's tumultuous politics and America's increasing influence in the region. A clever and scoop-hungry reporter, Elias soon gained access to powerful figures in both governments—and attracted many enemies. When the Greek military dictatorship took power in 1967, he narrowly escaped to Washington DC, where he would lead the fight to restore democracy in his homeland—while running afoul of the American government, too.

Now, after a decade of research and original reporting, James H. Barron uncovers the story of a man whose tireless pursuit of uncomfortable truths would put him at odds with not only his own government, but that of the Truman, Eisenhower, Kennedy, Johnson, Nixon, Ford, Carter and Reagan administrations, making him a target of CIA, FBI, and State Department surveillance and harassment—and Greek kidnapping and assassination plots American authorities may have purposefully overlooked.

A stunning feat of biographic storytelling, sweeping from World War II to the Cold War, Watergate and beyond, The Greek Connection is about a lifetime of standing up for democracy and a free press against powerful special interests. It has much to teach us about our own era's abuses of power, dark money, journalist intimidation, and foreign interference in elections.
Praise For The Greek Connection: The Life of Elias Demetracopoulos and the Untold Story of Watergate…
"Richly sourced . . . at times cinematic. [The] tension between journalism and activism sits at the heart of the book's inquiry into a corner of the Watergate story . . . ambitious."
—The Washington Post

"Engrossing, richly detailed . . . the story of one of America's first complex, controversial, and powerful émigré residents."
—Washington Monthly

"This is a magnificent work, a triumphant combination of exhaustive research and fine narrative writing. The story of the Greek Connection to the Watergate saga is told through a sweeping biography of a compelling figure who captures our attention from beginning to end."
—Doris Kearns Goodwin, author of Leadership: In Turbulent Times

"James Barron has done history a favor by telling the incomparable life of the amazing and indefatigable Elias Demetracopoulos, who spent his teenage years fighting against fascism in World War II and suffering, after the war, as America threw in against those inside Greece who had stood off the Nazis. Elias, having seen it all in his youth, became a real life Zelig as an investigative reporter, committed to the telling of truth and the making of trouble for Presidents from Jack Kennedy through the post-Nixon years.  There is much new history in this book, especially about the beginnings of the Watergate scandal."
—Seymour M. Hersh

"The Greek Connection is a marvelous book, a biography that illuminates an essential yet nearly forgotten figure who navigated some of the most important events of the 20th century. In Elias Demetracopoulos, author James Barron has vividly portrayed a real-life character as remarkable as any fictional Cold War hero. In our own era of political and journalistic skullduggery, this is a must-read."
—Mitchell Zuckoff, New York Times bestselling author of Fall and Rise and 13 Hours

"The hero of this story, Elias Demetracopoulos, was a freedom fighter in the fullest sense, both in battle trenches and in confrontations with powerful political adversaries. His story, deftly woven together here for the first time, is a lens through which we can see 20th-century history in a new light."
—Stephen Kinzer, author of Overthrow: America's Century of Regime Change from Hawaii to Iraq

"Barron brilliantly brings to life a Cold War story of international intrigue— and unravels one of the last mysteries of Watergate."
—Tim Weiner, author of Legacy of Ashes: The History of the CIA and The Folly and the Glory: America, Russia, and Political Warfare: 1945-2020

"A fascinating biography of a remarkable gadfly, Elias Demetracopoulos, who influenced the modern history of both his homeland, Greece, and his adopted country, the United States, to a degree not yet fully measured. Packed with revelations about John F Kennedy, Lyndon Johnson, Spiro Agnew, Richard Nixon, and the real reasons behind the Watergate break in, it is a meticulously researched and absorbing chronicle of one of the 20th century's most powerful political sagas."
—Nicholas Gage, author of Eleni

"Dogged probing and flair for narrative …, James Barron has produced a gripping you-can't-make-this-up profile that belatedly lifts the veil on a mysterious Watergate figure and on Cold War political hijinks that reverberate across two continents."
—Sam Roberts, New York Times reporter and author of The Brother: The Untold Story of the Rosenberg Atom Spy Case

"Elias Demetracopoulos is an illustration of how much can be achieved by a determined and courageous individual."
—Christopher Hitchens

"[A] page-turner... Highly recommended."
—Library Journal

"Barron's excellently-researched and well-crafted biography of a man whose pursuit of the truth despite the potential cost of that pursuit is an inspiration in an era when the truth is all too often lies."
—Ron Jacobs, Counterpunch

"Excellent. . . . written with extraordinary care and diligent assembly of facts. Reading this book was an enriching experience and it will undoubtedly become a required text for anyone wishing to understand U.S.- Greek relations between 1967 and 1974."
—Alexander Kitroeff, The Pappas Post

"Barron offers an even handed portrait of a complex man . . . a deeply researched life of a man in the crossroads of history."
—Kirkus
Melville House, 9781612198286, 496pp.
Publication Date: July 13, 2020
About the Author
James H. Barron is a journalist, attorney, and founding advisory board member of the New England Center for Investigative Reporting. A creator of the award-winning International Boston Initiative and Atlantic Rim Network, he has taught courses at MIT, led study groups at Harvard's Institute of Politics, and lectured at universities in Paris and Tokyo. Barron lives in Massachusetts with his wife, journalist Marjorie Arons-Barron.
or
Not Currently Available for Direct Purchase