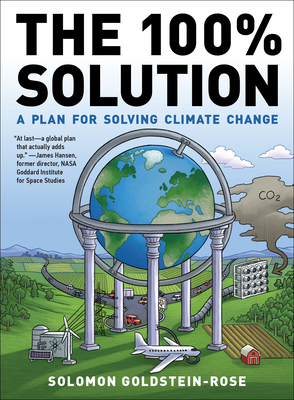 The 100% Solution
A Plan for Solving Climate Change
Paperback

* Individual store prices may vary.
Other Editions of This Title:
Digital Audiobook (3/30/2020)
Description
"At last--a global plan that actually adds up."--James Hansen, former director, NASA Goddard Institute for Space Studies

The world must reach negative greenhouse gas emissions by 2050 to avoid the most catastrophic effects of climate change. Yet no single plan has addressed the full scope of the problem--until now.

In The 100% Solution, Solomon Goldstein-Rose--a leading millennial climate activist and a former Massachusetts state representative--makes clear what needs to happen to hit the 2050 target: the manufacturing booms we must spur, the moonshot projects we must fund, the amount of CO2 we'll have to sequester from the atmosphere, and much more.

Most importantly, he shows us the more prosperous and equitable world we can build by uniting the efforts of activists, industries, governments, scientists, and voters to get the job done.

This is the guide we've been waiting for. As calls for a WWII-scale mobilization intensify--especially among youth activists--this fully illustrated, action-oriented book arms us with specific demands, sets the stakes for what our leaders must achieve, and proves that with this level of comprehensive thinking we can still take back our future.
Praise For The 100% Solution: A Plan for Solving Climate Change…
A Cosmopolitan Best Nonfiction Book of 2020


"His message is a necessary one."—New York Times Book Review

"Keenly practical."—Nature

"Impressively thoughtful, informative, innovative, and DIY practical."—Midwest Book Review

"Goldstein-Rose, a leading Millennial thinker, offers what the world desperately needs: fresh thinking on climate change, with the goal of steering the debate toward solutions that are both technically and politically practicable." —Steven Pinker, Professor of Psychology, Harvard University
 
"At last--a global plan that actually adds up."—James Hansen, former director, NASA Goddard Institute for Space Studies

"A major accomplishment and an exciting boon to the climate movement."—Emily Norton, former director, Massachusetts Sierra Club
 
"An important frame of reference for everyone seeking to address the greatest threat to our children and future generations." —US Rep. Jim McGovern, member of Congress (D-MA)
 
"Solomon Goldstein-Rose is not just an analyst who brings a grasp of the subject matter to the table, but also a former state elected official who, at a tender age, learned quickly what's needed to make change. His combination of knowledge and experience will reach new audiences and could inject new energy into the debate and give hope to a generation." —Armond Cohen, Founder and Director, Clean Air Task Force
 
"A pragmatic, feasible road map for addressing climate change. This is exactly the kind of thinking that is needed now." —Christina Paxson, President of Brown University
 
"The 100% Solution is an important read for anyone who cares more about addressing climate change than fighting ideological battles." —Ted Nordhaus, Founder and Director, Breakthrough Institute
 
"[Solomon's] vision offers a practical path forward and more climate thinkers need to understand his ideas." —Dan Bosley, former State Representative, architect of the 1997 MA Electric Restructuring Act
 
"Goldstein-Rose is the rare Millennial author who is passionate about protecting the planet for his and future generations but is also sober and rigorous in his prescriptions to reduce climate-warming emissions . . . The 100% Solution is a model for pragmatic and systemic thinking about climate change and proof that activist passion and scholarly rigor can go hand in hand." —Varun Sivaram, Chief Technology Officer at India's largest renewable energy company, author of Taming the Sun: Innovations to Harness Solar Energy and Power the Planet
 
"With clear text and elegant organization, Goldstein-Rose sets aside apocalyptic visions and maps planetary rescue." —Professor Steven J. Davis, Associate Professor of Earth System Science, UC–Irvine
Melville House, 9781612198385, 304pp.
Publication Date: March 31, 2020
About the Author
Solomon Goldstein-Rose was elected to the Massachusetts legislature on a climate change-focused platform at age 22. He previously interned in the Obama White House and in Congress, and ran a statewide carbon pricing campaign. He lives in Amherst, MA. For more see: SolomonGR.com
or
Not Currently Available for Direct Purchase