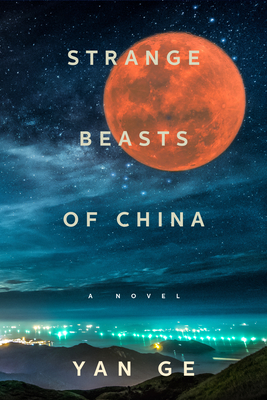 Strange Beasts of China
Hardcover

* Individual store prices may vary.
Description
Winner of an English PEN award, Strange Beasts of China is a disquieting bestiary that blurs the line between human and beast from one of most exciting voices in contemporary Chinese literature

In the fictional Chinese town of Yong'an, an amateur cryptozoologist Is commission to uncover the stories of the city's fabled beasts, who live alongside humans in near-inconspicuousness. The Heartsick Beasts, for example, genetically engineered to be as loyal and loving as possible.

Aided by her former professor and his enigmatic assistant, the narrator sets off to uncover the beasts, and finds herself pulled deeper and deeper into a myster that threatens her very sense of self.

Part detective story, part metaphysical enquiry, and written in prose that is both whimsical and daring, Yan Ge guides the reader through the underbelly of a chillingly uncanny world and questions what it really means to be human.
Praise For Strange Beasts of China…
"I loved the novel—charged with melancholy surrealism, its preoccupations with being and loneliness are both timeless and all too timely. The translation by Jeremy Tiang is especially brilliant and engaging." —Sharlene Teo, author of Ponti

"I don't know if it was the unexpected twists and turns in the protagonist's storyline, or Tiang's playful-yet-searing English, or the mirror this book holds up to our willingness to be divided and conquered, but I simply could not put this one down." —Heather Cleary, translator of  American Delirium

"A thought-provoking read on its own merit, the book takes on added significance given that it is an early work by Yan, whose talent is clear, raw and electrifying." —Post Magazine

"Playful and darkly subtle . . . The world shown here is full of chaos and vulnerability . . . You could choose to despair at this, or take hope that Yan Ge cares enough to write tenderly about it." —The Irish Times

"If Yan's book was simply a selection of surreal vignettes centered around the beasts, a la Jorge Luis Borges or Italo Calvino, it would likely be compelling enough . . . The novel as a whole abounds with moments where vivid imagery coincides with an ever-present sense of danger." —tor.com

"Strange Beasts of China is a fun, sometimes bleak, endlessly fascinating work of fiction, and one of the best Chinese novels in translation that you can pick up and read right now." —Books and Bao

"More than the beasts and their mysteries, Strange Beasts of China stretches out the tender links between parent and child, lovers and friends, who cannot always remain. It expresses the joys and sorrows of being by yourself in a maddening metropolis, and of feeling estranged yet connected to your origins in previously unthinkable ways." —Cha

"What appears to be a postmodern series of fantastic fables morphs into something more unexpected, expertly crafted by Yan Ge: an obscure mediation on the wildness of everyday existence, an evocative, bizarre consideration of the fragile boundaries between the self and the world beyond." —The Skinny
Melville House, 9781612199092, 192pp.
Publication Date: July 13, 2021
About the Author
Yan Ge was born in Sichuan, China in 1984. She is a fiction writer in both Chinese and English. She is the author of thirteen books, including six novels. She has received numerous awards, including the prestigious Maodun Literature Prize (Best Young Writer), and was named by People's Literature magazine as one of twenty future literature masters in China. Her work has been translated into English, French and German, among other languages.

Jeremy Tiang is a Singaporean writer, translator, and playwright, based in New York City. He has translated more than ten books from Chinese and was recently honoured as the London Book Fair's inaugural Translator in Residence.