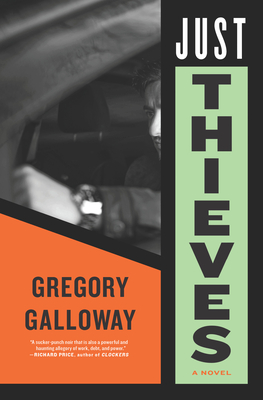 Just Thieves
Hardcover

* Individual store prices may vary.
Description
A CrimeReads "Best Noir Novel of 2021"

"A sucker punch noir that is also a powerful and haunting allegory of work, debt, and power." —Richard Price

"An unreliable narrator makes this thriller all the more gripping." — WBUR

A down and dirty gem of a tale—a twisty and twisted crime novel that evokes the worlds of George V. Higgins, Patricia Highsmith, and David Mamet, destined to be a Neo-noir classic.

Rick and Frank are recovering addicts and accomplished house thieves. They do not steal randomly - - they steal according to order, hired by a mysterious handler. The jobs run routinely until they're tasked with taking a seemingly worthless trophy: an object that generates interest and obsession out of proportion to its apparent value.
 
Just as the robbery is completed, the two are involved in a freak car accident that sets off a chain of events and Frank disappears with the trophy. As Rick tries to find Frank, he is forced to confront his past, upending both his livelihood and his sense of reality. The narrative builds steadily into a powerful and shocking climax.  Reveling in its con-artistry and double-crosses, Just Thieves is a nail-biting, noirish exploration of the working lives of two unforgettable crooks and the hidden forces that rule and ruin their lives.
Praise For Just Thieves…
A CrimeReads Best Noir Novels of 2021
Bookreporter's Favorite Books of 2021

"A sucker punch noir that is also a powerful and haunting allegory of work, debt, and power." —Richard Price

"An unreliable narrator makes this thriller all the more gripping." — WBUR

"Galloway is as good at characterizations as he is at tight, and surprising, plotting… (a) stellar noir." —Publishers Weekly starred review

"Spot-on throwback noir."— Shelf Awareness

"When a book begins with a dead horse, you know it's going to be good, and Just Thieves, a taut, understated, brilliant noir, is not only good but great."—CrimeReads

"Chock full of mystery, regret, intrigue, emotion: Galloway's newest is a brilliant meditation on what matters. The kind of book that leaves you feeling like you already saw, and felt, deeply, the movie. – Josh Malerman, New York Times best selling author of Bird Box


"Just Thieves happens in a wonderful space where digression and story-telling ride out together. There's room here for much of the world and for reminders that life itself is a digression. I enjoyed and admired this novel." - James Sallis


"Just Thieves is at once a brisk caper novel and a deep dive into the motivations that propel all of us, thieves and otherwise - - family, loyalty, and most of all love. Great fun and profoundly sad at once, which is no mean trick." —Scott Phillips, author of The Ice Harvest

"A violent, gritty, and surprisingly tender story that gut punches you with the emotional one-two of a tragic twist and a stunning finale."—Katie Tallo, Author of Dark August


" …a contemporary crime novel of devastating emotional precision. Moving with uncanny control between past and present, with tensely constructed scenes strung along a gleaming thread of superb dialogue, it earns an honorable place in the tradition of suspense fiction that it so elegantly evokes." — Alec Nevala Lee , author of The Icon Thief
Melville House, 9781612199375, 256pp.
Publication Date: October 19, 2021
About the Author
Gregory Galloway is the author of the novels The 39 Deaths of Adam Strand and the Alex Award-winning As Simple As Snow. His short stories have appeared in the Rush Hour and Taking Aim anthologies. He is a graduate of the Iowa Writers' Workshop and currently resides in NW Connecticut.