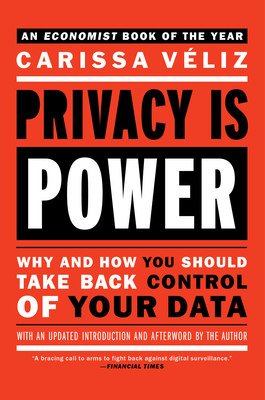 Privacy is Power
Why and How You Should Take Back Control of Your Data
Paperback

* Individual store prices may vary.
Other Editions of This Title:
Hardcover (4/6/2021)
Description
An Economist Book of the Year

Every minute of every day, our data is harvested and exploited… It is time to pull the plug on the surveillance economy.

Governments and hundreds of corporations are spying on you, and everyone you know. They're not just selling your data. They're selling the power to influence you and decide for you. Even when you've explicitly asked them not to.

Reclaiming privacy is the only way we can regain control of our lives and our societies. These governments and corporations have too much power, and their power stems from us--from our data. Privacy is as collective as it is personal, and it's time to take back control.

Privacy Is Power tells you how to do exactly that. It calls for the end of the data economy and proposes concrete measures to bring that end about, offering practical solutions, both for policymakers and ordinary citizens.
Praise For Privacy is Power: Why and How You Should Take Back Control of Your Data…
An Economist Book of the Year

"In recent years, concerns over digital data mining and violations of online privacy have become an increasing concern within both public and political spheres...These concerns are meticulously explored in Privacy is Power. The book exposes the ethics of how corporations and governments exploit data, and how users can obtain greater protection." -- Newsweek

"Carissa Véliz has written a book that everyone should read. If you are uneasy about the creeping digitalization of human life and our ever-eroding expectations of privacy—or would like to be—then you will enjoy and benefit from her book." -- Public Books

"No one explains the issues and opportunities in privacy better than Carissa Véliz. Her book, Privacy Is Power is brilliant." —Roger McNamee, author of Zucked

"A powerful cri de coeur for technological liberation that merits the attention of every consumer of digital services." —Kirkus Reviews

"An essential guide to one of the most pressing modern issues." —Hannah Fry, author of Hello World

"We didn't see digital surveillance coming, but today it's threatening democracy and basic freedoms. If you want to understand why privacy matters more than ever before, and how we can preserve it in an age of data grabbing, read this book." —Nigel Warburton, author of A Little History of Philosophy

"A forceful call for us to tame the data economy by reclaiming our privacy ... and our power." —Jonathan Zittrain, author of The Future of the Internet

"In this bold, original, and engaging book, Carissa Véliz makes a compelling case for the revolutionary goal of reclaiming privacy from the grip of a destructive data economy. While many have lamented the ills of surveillance capitalism, Véliz's courageous manifesto paves a clear path for regaining power--taking back our ill-gotten information from tech companies and data brokers and reinvigorating democracy in the process." —Evan Selinger, Professor of Philosophy, Rochester Institute of Technology and co-author of The Cambridge Handbook of Consumer Privacy

"How much does it matter that every day we unwittingly hand over more and more of our personal data to internet giants? In this smart, stylishly written, and alarming volume Carissa Veliz argues that it matters a great deal and that we don't have to put up with it. Essential reading for those of us who click 'agree' ten times a day." —Jonathan Wolff, author of An Introduction to Moral Philosophy



Melville House, 9781612199672, 304pp.
Publication Date: January 25, 2022
About the Author
Carissa Véliz is an associate professor at the Faculty of Philosophy and the Institute for Ethics in AI, as well as a tutorial fellow at Hertford College, at the University of Oxford. She is the editor of the Oxford Handbook of Digital Ethics.