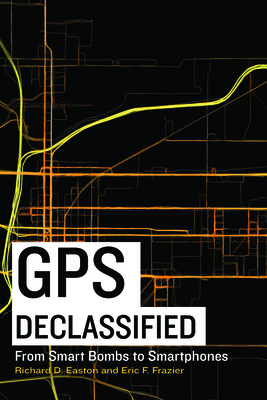 GPS Declassified
From Smart Bombs to Smartphones
Hardcover

* Individual store prices may vary.
Other Editions of This Title:
Paperback (5/1/2020)
Description
GPS Declassified examines the development of GPS from its secret, Cold War military roots to its emergence as a worldwide consumer industry. Drawing on previously unexplored documents, Richard D. Easton and Eric F. Frazier examine how military rivalries influenced the creation of GPS and shaped public perceptions about its origin. Since the United States' first program to launch a satellite in the late 1950s, the nation has pursued dual paths into space—one military and secret, the other scientific and public. Among the many commercial spinoffs this approach has produced, GPS arguably boasts the greatest impact on our daily lives.

Told by a son of a navy insider—whose work helped lay the foundations for the system—and a science and technology journalist, the story chronicles the research and technological advances required for the development of GPS. Easton and Frazier note how the technology moved from the laboratory and the battlefield to the dashboard and the smartphone, and they raise the specter of how this technology and its surrounding industry affect public policy. Insights into how the system works and how it fits into a long history of advances in navigation tie into discussions of the myriad applications for GPS.  
Praise For GPS Declassified: From Smart Bombs to Smartphones…
"GPS Declassified is a carefully researched, well written, fast-paced, and thoroughly enjoyable book."—William F. Mellberg, Space Review
— William F. Mellberg
"As an introduction to GPS, its history, uses, issues and concerns GPS Declassified can't be beat."—Robert Schaefer, New York Journal of Books
— Robert Schaefer
"[GPS Declassified] is a good primer and a stimulus to the more challenging aspects of what is now one of the fastest growing sectors in space applications."—Spaceflight
— Spaceflight
"This book expertly weaves the story of GPS development and its ever-expanding use. . . . Beyond the science of GPS, the authors also provide insight into how societies evolved, grow, and expand."—M. W. Carr, Choice
— M. W. Carr
"This book is an essential history of how this technology came to be, how it works, and where it may be going in the future."—John Walker, Fourmilog
— John Walker
"A fine and entertaining story of the origins of the Global Positioning System, a consequential space-age technology that has affected the lives of hundreds of millions in war and peace. Non-specialist readers will easily understand principles of this sophisticated system and appreciate difficulties of GPS development by visionary individuals."—Mike Gruntman, professor of astronautics at the University of Southern California at Los Angeles and author of Blazing the Trail: The Early History of Spacecraft and Rocketry
— Michael Gruntman
Potomac Books, 9781612344089, 328pp.
Publication Date: October 1, 2013
About the Author
Richard D. Easton has published articles about the origin of GPS in various space-related publications. His father, Roger L. Easton, led the Space Applications Branch of the Naval Research Laboratory from the Vanguard satellite era to the early days of GPS development.
Eric F. Frazier is a former newspaper reporter who covered governmental affairs for a general audience. His articles about computer security, nanotechnology, and drug marketing research have appeared in a variety of publications.