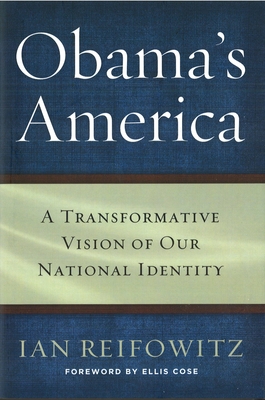 Obama's America (Hardcover)
A Transformative Vision of Our National Identity
Potomac Books, 9781612344720, 270pp.
Publication Date: July 1, 2012
* Individual store prices may vary.
Description
Our national identity is defined by what it means to be an American and whom we include and why when we talk about "the American people." A country's national identity is fluid, and Ian Reifowitz argues that President Barack Obama, by emphasizing the ideals Americans hold dear, hopes to redefine ours in a fundamental way. Obama's conception of America emphasizes two principles of national unity: First, all Americans, regardless of their heritage and cultural traditions, should identify with America as their country, based upon shared democratic values, a shared history, and a shared fate. Second, America should embrace all its citizens as active participants in one "family." Reifowitz explores Obama's belief that strengthening our common bonds will encourage Americans to rectify the injustices and heal the racial divisions that still plague our country.

We have the opportunity to demonstrate to the world that a society of many races and cultures can truly become one people. In facing terrorism, violent fundamentalism, and other security issues, Obama's response centers on a powerful, inspiring, and truly inclusive American narrative. By bolstering America's identity as diverse yet unified, he aims both to counter the anxieties and fears that radicalism stokes and give proponents of religious and political freedom a model they can defend. The stakes couldn't be any higher in determining America's future.

About the Author
Raised in Smithtown, Long Island, Ian Reifowitz graduated from Brown University with a BA in history and from Georgetown University with a PhD in history. Since 2002, he has taught history at Empire State College of the State University of New York, where he now holds the rank of professor, and in 2009 won the college's Susan H. Turben Award for Scholarly Excellence. In 2014 he received a S.U.N.Y. Chancellor's Award for Excellence in Scholarly and Creative Activities. He is a Contributing Editor at the political website Daily Kos, and his opinion pieces and articles on American politics have appeared in the Daily News, Newsday, The New Republic, In These Times, and other publications. His first book, Imagining an Austrian Nation: Joseph Samuel Bloch and the Search for a Multiethnic Austrian Identity, 1846-1919, was published by East European Monographs and distributed by Columbia University Press in 2003. He has published a number of academic articles in the Journal of Jewish Identities, Nationalities Papers, and East European Quarterly, amongst other publications, as well as numerous book reviews.
Praise For Obama's America: A Transformative Vision of Our National Identity…
"The election of Barack Obama was a major victory for race relations in America, pushing forth one of America's best values: cultural unity. Obama's America: A Transformative Vision of Our National Identity is a discussion of culture, social issues, and politics as Ian Reifowitz presents an optimistic view of what Barack Obama can do for America culturally, the fierce response to his rise, and what it ultimately means for America's future. An intriguing alternative perspective on the influence that Barack Obama holds on American culture, Obama's America is a solid addition to any cultural studies collection, highly recommended."—Midwest Book Review
— Midwest Book Review
"Reifowitz . . . offers a compelling account of how Barack Obama has offered a "transformative vision of our national identity" in relationship to the discourse of the Founders. . . . Highly recommended."—W. Glasker Rutgers, Choice
— W. Glasker Rutgers
"Obama's America is a relevant, thoughtful read for anyone interested in Barack Obama, his rhetoric, and the ongoing negotiation of our American identity."—Michael R. Kramer, Presidential Studies Quarterly
— Michael R. Kramer
"In this innovative, tightly reasoned, and concise work, Ian Reifowitz shows that Barack Obama's contributions to strengthening America's understanding of itself as an inclusive society transcend his status as the nation's first African American president. Reifowitz brings a bracing dose of optimistic vision to today's usually dreary and polarized political debates."—Allan J. Lichtman, author of White Protestant Nation: The Rise of the American Conservative Movement, and professor of history, American University
— Allan J. Lichtman
"With lively prose and interpretive precision, Ian Reifowitz reveals the forty-fourth president's pivotal role in the remaking of American identity. Obama's America is one of those rare works of history that should enlighten the future as well as it explains something of great significance about the past."—Michael Kazin, author of American Dreamers: How the Left Changed a Nation and professor of history, Georgetown University
— Michael Kazin
"This is social science at its best. The book focuses on the president but employs insights into his identity as an individual to provide a penetrating and novel view of our identity as a people."—Amitai Etzioni, author of The New Golden Rule and University Professor, George Washington University
— Amitai Etzioni