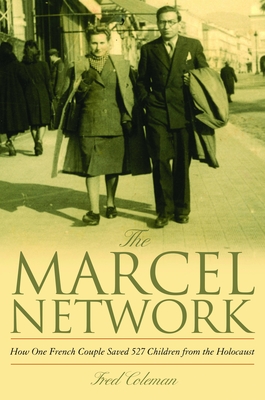 The Marcel Network (Hardcover)
How One French Couple Saved 527 Children from the Holocaust
Potomac Books, 9781612345116, 256pp.
Publication Date: November 1, 2012
* Individual store prices may vary.
Description
Syrian immigrant Moussa Abadi was only 33, and his future wife, Odette Rosenstock, 28, when they found themselves trapped in Nazi-occupied France. This young Jewish couple—he a graduate student in theater, and she a doctor—was poor but resolute. Risking their own lives and relying on false papers, the Abadis hid Jewish children in Catholic schools and convents and with Protestant families. In 1943, their clandestine organization—the Marcel Network—became one of the most successful operations of Jewish resistance in Europe. By the end of the war, 527 children owed their survival to the Abadis. Yet their improbable success came with almost unspeakable sacrifice. As an example of what just two people of good will can accomplish in the face of crimes against humanity, the Abadis' story is a lesson in moral and physical courage. Drawn from a multitude of sources, including hundreds of documents in the Abadis' archives and dozens of interviews with the now grown children they rescued, Fred Coleman tells the Abadis' full story for the first time. The Marcel Network also breaks historic ground, and reveals how the Catholic Church, French Christians, and Jews themselves did far more to save Jewish lives than is generally known.
About the Author
Fred Coleman's long career as a foreign correspondent included five years as Newsweek's bureau chief in Paris and eight years as the magazine's bureau chief in Moscow. In 1978 he won the Page 1 Award of the Newspaper Guild of New York for the best reporting from abroad for magazines. His first book, The Decline and Fall of the Soviet Empire, was published 'in 1996. Coleman and his wife, Nadine, live in Paris.
Praise For The Marcel Network: How One French Couple Saved 527 Children from the Holocaust…
"There are thrilling fiction stories about World War II, but here an American journalist living in France has located a thriller that engages reality."
—Book of the Month Club
"This is a book you won't want to miss."—Marcia W. Posner, Jewish Book World
— Marcia W. Posner
"In times of great evil, great good can be born. The Marcel Network tells one such extraordinary story, that of two young Jews who saved 527 Jewish children in Nazi-occupied France from likely arrest and deportation for no other reason than that they could not stand by and do nothing. As Fred Coleman vividly recounts, Moussa Abadi and Odette Rosenstock never considered themselves heroes. And after the war, they sought no recognition for their work. Now, almost seven decades later, thanks to The Marcel Network, they can take their place in history as shining examples of the courage people can show when they dare to look horror in the face."—Alan Riding, author of And The Show Went On: Cultural Life in Nazi-Occupied Paris
— Alan Riding
"Fred Coleman proves that it is still possible to unearth a gripping, previously untold story from the Holocaust. While focusing on a remarkable Jewish couple who saved 527 children in France, he also highlights the courage of those Catholics and Protestants who were critical to their success. The Marcel Network demonstrates that not even the Germans and their French collaborators could stamp out the best of the human spirit. A truly inspiring tale."—Andrew Nagorski, author of Hitlerland: American Eyewitnesses to the Nazi Rise to Power
— Andrew Nagorski
"Readers, whether Holocaust scholars or beginning students, will find The Marcel Network a compelling, often gripping tale. It is remarkable for its immediacy and comprehensiveness."—Frederick M. Schweitzer, professor emeritus of history and founder of the Holocaust Center, Manhattan College
— Frederick M. Schweitzer
"From face-to-face interviews, memoirs, and vanished documents, Fred Coleman has turned out an inspiring story of adventure, betrayal, imprisonment, and survival. It evokes the poignancy of wartime trauma that even its heroes wanted to forget—a network run by Jews hiding children from the Holocaust with the help of priests, nuns, pastors, ordinary believers, and a patriotic French Catholic bishop who refused to follow the lead of his pope. All risked their lives every suspenseful moment of the rescue, and Coleman's book will keep you turning the pages to reach the light in this tale of life in dark times."—Lawrence Malkin, author of Krueger's Men: The Secret Nazi Counterfeit Plot and the Prisoners of Block 19
— Lawrence Malkin