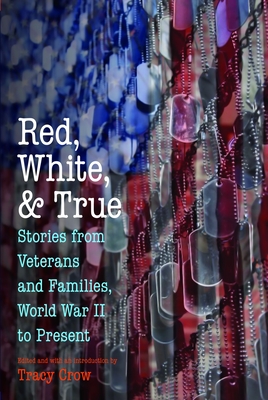 Red, White, and True (Paperback)
Stories from Veterans and Families, World War II to Present
Potomac Books, 9781612347011, 296pp.
Publication Date: August 15, 2014
* Individual store prices may vary.
Description
Even as we celebrate the return of our military from wars in the Middle East, we are becoming increasingly aware of the struggles that await veterans on the home front. Red, White, and True offers readers a collection of voices that reflect the experiences of those touched by war—from the children of veterans who encounter them in their fathers' recollections of past wars to the young men and women who fought in the deserts of Iraq and Afghanistan.

The diversity of perspectives collected in this volume validates the experiences of our veterans and their families, describing their shared struggles and triumphs while honoring the fact that each person's military experience is different.

Leila Levinson's powerful essay recounts her father's experience freeing a POW camp during World War II. Pulitzer Prize–winning author Tracy Kidder provides a chilling account of being a new second lieutenant in Vietnam. Army combat veteran Brooke King recounts the anguish of raising her young children by day while trying to distinguish between her horrific memories of IED explosions in Baghdad and terrifying dreams by night.

These individual stories of pain and struggle, along with twenty-nine others, illustrate the inescapable damage that war rends in the fabric of society and celebrate our dauntless attempts to repair these holes with compassion and courage.

About the Author
Tracy Crow is a former Marine Corps officer and the author of Eyes Right: Confessions from a Woman Marine (Nebraska, 2012) and On Point: A Guide to Writing the Military Story (Potomac Books, 2015).
Praise For Red, White, and True: Stories from Veterans and Families, World War II to Present…
"I have not read a more awe-inspiring collection of ground truth of the human experience than the stories I found in Red, White, and True. Deeply moving, compelling, and at times emotionally wrenching to the point of tears, Red, White, and True is an unforgettable and thoroughly rewarding reading experience."—Dwight Jon Zimmerman, New York Times best-selling coauthor of Lincoln's Last Days and coauthor of Uncommon Valor
— Dwight Jon Zimmerman
"If you are or have been a member of the military, read this book. If you love or have loved someone in the military, read this book. If you don't know anyone in the military, read this book. It's a revelation."—Pinckney Benedict, author of Miracle Boy and Other Stories and Town Smokes
— Pinckney Benedict
"I know of nothing else like this: thirty-two writers—veterans, military spouses, and now grown children of veterans—all sharing how their lives have been affected by military service."—David Abrams, The Quivering Pen
— David Abrams
"With the U.S. military yet again stepping into new roles around the globe, Red, White, & True is a timely collection."—Colette Bancroft, Tampa Bay Times
— Colette Bancroft