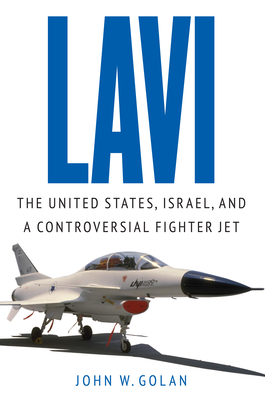 Lavi
The United States, Israel, and a Controversial Fighter Jet
Hardcover

* Individual store prices may vary.
Description
The Lavi fighter program, the largest weapons-development effort ever undertaken by the State of Israel, envisioned a new generation of high-performance aircraft. In a controversial strategy, Israel Aircraft Industries intended to develop and manufacture the fighters in Israel with American financial support. The sophisticated planes, developed in the mid-1980s, were unique in design and intended to make up the majority of the Israeli air force. Though considerable prestige and money were at stake, developmental costs increased and doubts arose as to whether the Lavi could indeed be the warplane it was meant to be. Eventually the program became a microcosm for the ambitions, fears, and internal divisions that shaped both the U.S.-Israeli relationship and Israeli society itself. But the fighter never made it to operational service, and until now, the full breadth and significance of the Lavi story have never been examined and presented. Lavi: The United States, Israel, and a Controversial Fighter Jet traces the evolution of the Lavi fighter from its genesis in the 1970s to its scrapping in August 1987. John W. Golan examines the roles of Israeli military icons and political leaders such as Ezer Weizman, Ariel Sharon, Menachem Begin, and Yitzhak Rabin in the program and in relation to their counterparts in the United States. On the American side, Golan traces the evolution of government policy toward the program, detailing the complex picture of the U.S. foreign policy apparatus and of U.S.-Israeli relations in general—from President Reagan's public endorsement of the program on the White House lawn to Defense Secretary Caspar Weinberger's unremitting attempts to cancel it in succeeding years.
Praise For Lavi: The United States, Israel, and a Controversial Fighter Jet…
"[An] excellent book."—Moshe Arens, Jerusalem Post
— Moshe Arens

"An excellent read for Airmen."—Maj Matthew C. Wunderlich, USAF, Air Force Research Institute
— Maj Matthew C. Wunderlich, USAF

"A fascinating read, Lavi includes multiple books in one, discussing the tactical reasons leading to the development of the Lavi; examining the evolving political and budget intrigue leading to its cancellation; and offering a detailed technical analysis of the Lavi versus its alternatives. An important addition to Middle East aviation history."—Lon O. Nordeen, author of Air Warfare in the Missile Age and commentator on the History Channel
— Lon O. Nordeen
Potomac Books, 9781612347226, 450pp.
Publication Date: January 1, 2016
About the Author
John W. Golan has served as a designer, structural analyst, and engineering manager in the U.S. aerospace industry for the last two decades, developing future-generation technology concepts. He has published articles with Air Forces Monthly, Combat Aircraft, Aviation History, and the Jerusalem Post Magazine.