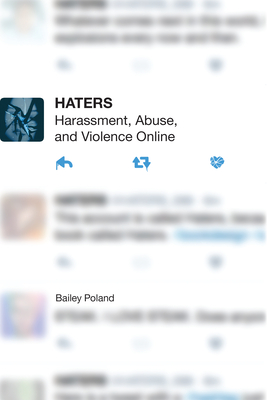 Haters
Harassment, Abuse, and Violence Online
Paperback

* Individual store prices may vary.
Description
Cybersexism is rampant and can exact an astonishingly high cost. In some cases, the final result is suicide.

Bullying, stalking, and trolling are just the beginning. Extreme examples such as GamerGate get publicized, but otherwise the online abuse of women is largely underreported. Haters combines a history of online sexism with suggestions for solutions.

Using current events and the latest available research into cybersexism, Bailey Poland questions the motivations behind cybersexist activities and explores methods to reduce footprints of Internet misogyny, drawing parallels between online and offline abuse. By exploring the cases of Alyssa Funke, Rehtaeh Parsons, Audrie Pott, Zoe Quinn, Anita Sarkeesian, Brianna Wu, and others, and her personal experiences with sexism, Poland develops a compelling method of combating sexism online.
Praise For Haters: Harassment, Abuse, and Violence Online…
"Those interested in topics of social justice in online communities will find Poland's work immensely motivating."—Marian Mays, Library Journal

"[An] invaluable information and perspective. . . . Plenty to think about and discuss."—Booklist Online
 

"After reading Bailey Poland's Haters, I am confident in its interdisciplinary applicability and importance."—Cody A. Jackson, Computers and Compositions

"Haters is one of those rare beautiful books serving not just as a compelling manual, an eloquent critique, and a meticulous study but also a profound moral call to action."—Daniel Casey, Misanthropester
Potomac Books, 9781612347660, 312pp.
Publication Date: November 1, 2016
About the Author
Bailey Poland is a writer, feminist, and activist, as well as the creator of the literary journal Leaves and Flowers; she is a regular contributor to numerous print and online journals, including Line Zero. She is the editor of Involution: Stories, Poems, and Essays from the First Two Years of "Line Zero."