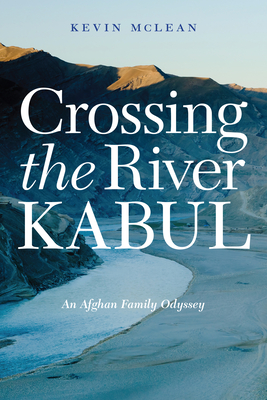 Crossing the River Kabul
An Afghan Family Odyssey
Hardcover

* Individual store prices may vary.
Description
Baryalai Popal sees his Western-educated professors at Kabul University replaced by communists. He witnesses his classmates "disappearing." The communist takeover uproots Popal from his family and home. Thus begins Crossing the River Kabul, the true story of Popal's escape from Afghanistan and his eventual return.

Kevin McLean weaves together Popal's stories in this memoir, which is also a fascinating look at Afghanistan from the viewpoint of Popal and generations of his politically influential family. From the exile of Popal's grandfather from Kandahar in 1898 to his father's tutoring of two boys who as adults would play important roles in Afghanistan—one as king and the other as president—to his uncle's presence at the fateful meeting that led to the Soviet invasion of Afghanistan, Popal's family history is intertwined with that of his nation.

Popal fled his country following the Russian invasion of Afghanistan in 1980. After being imprisoned as a spy in Pakistan, he managed to make his way to Germany as a refugee and to the United States as an immigrant. Twenty years later he returned to Afghanistan after 9/11 to reclaim his houses, only to find one controlled by drug lords and the other by the most powerful warlord in Afghanistan.

Popal's memoir is an intimate, often humorous portrait of the vanished Afghanistan of his childhood. It is also the story of a father whose greatest desire is to see his son follow in his footsteps, and a son who constantly rebels against his father's wishes. Crossing the River Kabul is a story of choice and destiny, fear and courage, and loss and redemption.
 
Praise For Crossing the River Kabul: An Afghan Family Odyssey…
"[Crossing the River Kabul] delineates a sense of what it means to hail from a proud Afghan family in the throes of violence."—Kirkus

"A solid offering."—Saadia Faruqi, New York Journal of Books

"Crossing the River Kabul tells Popal's epic life story in his own voice. It blends family anecdotes with personal and political history to form a readable and informative account of a turbulent phase of Afghan history through the eyes of a man who, as a descendent of one of Afghanistan's two historical ruling families, is well positioned to reflect on the political upheaval and war that have wracked his homeland."—Daniela Pioppi, Middle East Journal

"Baryalai Popal's personal story is a poignant microcosm of the beauty and tragedy of Afghanistan."—Ronald E. Neumann, former U.S. ambassador to Afghanistan
 

"A fascinating, moving, and highly readable story. We learn much about Afghan family, tribal, and cultural values—as kings, presidents, ministers, and warlords all make their way through these pages."—Tim Foxley, former Afghanistan senior analyst for the UK Ministry of Defense

"Crossing the River Kabul is full of exceptionally interesting stories not found in historical accounts. Afghans and non-Afghans alike will find it gripping reading."—Nabi Misdaq, broadcast journalist with the BBC World Service and author of Afghanistan: Political Frailty and External Interference 

"An exciting tale, as current today as it was in 1980 when Bar Popal and his family fled Afghanistan, Crossing the River Kabul is a harrowing adventure with life and death consequences explaining the tribulations experienced by refugees. While following one family, this book puts a human face on the harsh realities and complexities of those millions of people who flee the destruction of their homelands. It should be read by every compassionate person who contemplates the plight of refugees." —John B. Alexander, former U.S. Army colonel and advisor to senior ministry officials in Kabul
 
Potomac Books, 9781612348971, 256pp.
Publication Date: June 1, 2017
About the Author
Kevin McLean practiced law in Boston and San Diego.