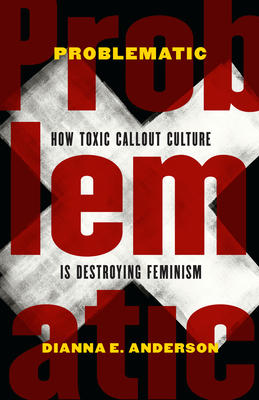 Problematic (Hardcover)
How Toxic Callout Culture Is Destroying Feminism
Potomac Books, 9781612349619, 200pp.
Publication Date: September 1, 2018
* Individual store prices may vary.
Description
From Beyoncé's Lemonade to The Force Awakens to the 2016 Ghostbusters reboot, the entertainment industry seems to be embracing the power of women like never before. But with more feminist content comes more feminist criticism—and it feels as if there's always something to complain about.

Dianna E. Anderson's incisive Problematic takes on the stereotype of the perpetually dissatisfied feminist. Too often feminist criticism has come to mean seeing only the bad elements of women-centric pop culture and never the good. Anderson suggests that our insistence on feminist ideological purity leads to shallow criticism and ultimately hurts the movement. Instead, she proposes new, more nuanced forms of feminist thought for today's culture, illustrated by examples from across the spectrum of popular music, movies, and TV, including Lena Dunham, Nicki Minaj, and even One Direction. While grounding her inquiry in pop culture media and topics, Anderson draws on concepts of feminist theory to show how we can push for continued cultural change while still acknowledging the important feminist work being done in the pop culture sphere today.
 
About the Author
Dianna E. Anderson is a freelance journalist, author, and activist in women's issues. She is a regular contributor to Cosmopolitan, Rolling Stone, the Establishment, Vice, and Bitch Magazine. Anderson is the author of Damaged Goods: New Perspectives on Christian Purity.
Praise For Problematic: How Toxic Callout Culture Is Destroying Feminism…
"This is an in-depth, insightful, and novel contribution to feminist debates about popular culture."—Publishers Weekly
— Publishers Weekly
"Activism, advocating and justice are a constant developmental journey–you never "arrive." Everyone is always learning more about society and cultural issues, about systems of oppression and how we either support or dismantle those systems. And yet, fearing this level of unrelenting and, sometimes, life-altering criticism frequently stops people from speaking up and speaking out. Ultimately, read this book–especially if you consider yourself a feminist and frequently engage in pop culture!"—Bibliophile's Binge blog
— Bibliophile's Binge blog
"It's never been easier to consume popular culture or trickier to thoughtfully engage it without messing up: you have to like (or condemn) all the right things and for all the right reasons. But those arguments around Beyoncé or the Oscars get so heated because pop culture is where we affirm and, yes, perform, our public values. Anderson illustrates precisely why those political stakes require us to envision a post-'callout' world where we can stay critically engaged in the discourse on movies and sports and music—perhaps especially when it comes to the stuff we're not supposed to like."—Gene Demby, host of NPR's Code Switch
— Gene Demby
"Problematic is a necessary contribution to a crucial current debate—a sustained, thoughtful argument for engaging with the compromised, the difficult, and, yes, the problematic in contemporary popular culture."—Angus Johnston, historian, professor at City University of New York, and advocate for student rights
— Angus Johnston
"In a time when everyone is swinging sledgehammers, Dianna Anderson comes at our feminist discourse with a scalpel, taking on some of the most bitterly polarized and polarizing figures of our time with nuance and care. Even if you think you physically can't bear to read another essay about Iggy Azalea or Girls, you need to read hers."—Sady Doyle, author of Trainwreck: The Women We Love to Hate, Mock, Fear . . . and Why, and founder of Tiger Beatdown
— Sady Doyle
"In Problematic Dianna Anderson takes the reader back to feminist theory 101, walking the long-dedicated and newly recruited among us alike through the often risky process of consuming popular culture with a critical eye. Along the way she teaches us to hold on to the joy of those things that can, at times, fall short of perfection."—Katie Klabusich, writer, reproductive justice advocate, and host of Netroots Radio's The Katie Speak Show
— Katie Klabusich
"This work is necessary right now, especially in this particular moment (a Trump presidency and in a #MeToo world). It is hard to read Problematic and not come away concerned that a feminist critique of pop culture is both required in today's society and struggling under the weight of its own righteousness . Anderson doesn't want feminists to stop being critical of the world around them; she's just asking that they be more thoughtful about how they do it. Problematic can serve as an example of how to do exactly that."—Jessica Luther, author of Unsportsmanlike Conduct: College Football and the Politics of Rape
— Jessica Luther