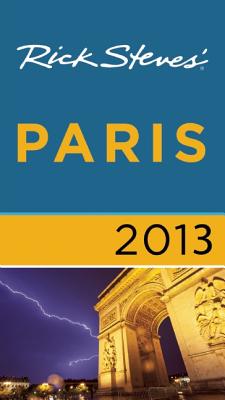 Rick Steves' Paris 2013 (Paperback)
Avalon Travel Publishing, 9781612383811, 708pp.
Publication Date: November 1, 2012
* Individual store prices may vary.
or
Not Currently Available for Direct Purchase
Description
You can count on Rick Steves to tell you what you really need to know when traveling in the City of LightParis.
With the self-guided tours in this book, you'll explore the grand Champs-Elysees, the eye-popping Eiffel Tower, and the radiant cathedral of Notre-Dame. Learn how to save money and avoid the lines at the Louvre and Orsay Museums. Enjoy the ambience of Parisian neighborhoods, and take a day trip to the glittering palace of Versailles, or to the Champagne-soaked city of Reims. Then grab a cafe creme at a sidewalk cafe and listen to the hum of the city. You'll see why Paris remains at the heart of global culture.
Rick's candid, humorous advice will guide you to good-value hotels and restaurants in delightful neighborhoods. You'll learn how to navigate the Paris Metro, and which sights are worth your time and money. More than just reviews and directions, a Rick Steves guidebook is a tour guide in your pocket.

About the Author
Rick Steves has spent 100 days every year since 1973 exploring Europe. Rick produces a public television series (Rick Steves' Europe), a public radio show (Travel with Rick Steves), and an app and podcast (Rick Steves Audio Europe); writes a bestselling series of guidebooks and a nationally syndicated newspaper column; organizes guided tours that take thousands of travelers to Europe annually; and offers an information-packed website (RickSteves.com). With the help of his hardworking staff of 80 at Europe Through the Back Door--in Edmonds, Washington, just north of Seattle--Rick's mission is to make European travel fun, affordable, and culturally broadening for Americans. Steve Smith manages tour planning for Rick Steves' Europe Through the Back Door and has been researching guidebooks with Rick for two decades. Fluent in French, he's lived in France on several occasions, starting when he was seven, and has traveled there annually since 1986. Steve's wife, who is an expert on French cuisine and wine, provides invaluable contributions to his books, as do his two children. Gene Openshaw is a writer, composer, tour guide, and lecturer on art and history. Specializing in writing walking tours of Europe's cultural sights, Gene has coauthored eight of Rick's books and contributes to Rick's public television series. As a composer, Gene has written a full-length opera (Matter), a violin sonata, and dozens of songs. He lives near Seattle with his daughter, and roots for the Mariners in good times and bad.
Advertisement