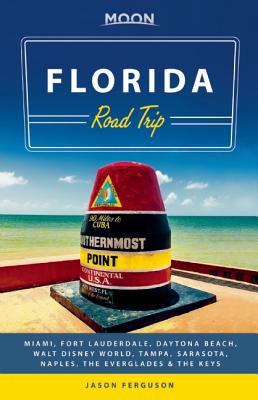 Moon Florida Road Trip (Paperback)
Miami, Fort Lauderdale, Daytona Beach, Walt Disney World, Tampa, Sarasota, Naples, the Everglades & the Keys (Moon Handbooks)
Moon Travel, 9781612388335, 448pp.
Publication Date: December 23, 2014
* Individual store prices may vary.
Description
Hit the Road with Moon Travel Guides
From hip clubs and amusement parks to wild and natural beauty, see what has drawn tourists to the Sunshine State for centuries with
Moon Florida Road Trip
. Inside you'll find:
Maps and Driving Tools: 73 easy-to-use maps keep you oriented on and off the highway, along with site-to-site mileage, driving times, and detailed directions for the entire route
Eat, Sleep, Stop and Explore: You'll know exactly what you want to do at each stop with lists of the best beaches, views, and more. Explore the lush wetlands of the Everglades, relax on the beautiful beaches of the Keys, or take in the electric vibe of Miami
Itineraries for Every Traveler: Drive the entire two-week route or follow strategic routes like "The Weird and the Wonderful," as well as suggestions for spending time in in Miami, the Everglades, the Keys, the Atlantic Coast, Orlando, Daytona, the Space Coast, Sarasota, and Naples
Local Expert: Florida native Jason Ferguson takes you on a tour of his beloved home state
Planning Your Trip: Know when and where to get gas, how to avoid traffic, tips for driving in different road and weather conditions, and suggestions for LGBTQ travelers, seniors, and road trippers with kids
With Moon Florida Road Trip's practical tips, detailed itineraries, and insider's view, you're ready to fill up the tank and hit the road.
Looking to explore more of America on wheels? Try
Moon Nashville to New Orleans Road Trip
Doing more than driving through? Check out
Moon Sarasota & Naples
or
Moon Florida Gulf Coast
.
About the Author
Florida native Jason Ferguson has yet to find a corner of his home state that doesn't hold some sort of surprise. With a background in alternative journalism and arts and culture reporting, Jason enjoys finding surprises and unusual sights in some of Florida's most well-traveled destinations. As a father, he certainly enjoys the pleasures of the beaches and outdoor opportunities, but also likes to dig deep into the nightlife, arts, and cultural scenes.Jason has written for publications ranging from Time Out, Travel + Leisure, and Caribbean Travel & Life to Florida newspapers such as the Orlando Weekly and Miami New Times. He enjoys sniffing out the beauty of Florida's natural history as well as the oddness of its quirky present. He, his wife, and their kids utilize their home in Central Florida as a launching pad for weekend adventures that take them to points of interest throughout the state. Although their favorite spots change from week to week, there's a general consensus that the white-sand beaches of southwest Florida aren't just the best in the state, but are possibly some of the best in the world.