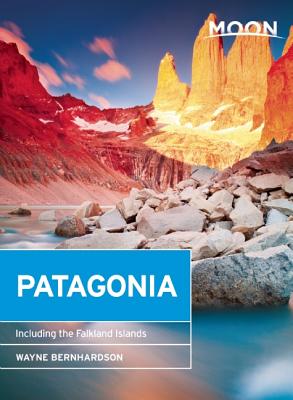 Moon Patagonia: Including the Falkland Islands (Paperback)
Including the Falkland Islands
Moon Travel, 9781612389127, 624pp.
Publication Date: December 9, 2014
Description
Since its discovery, Patagonia has lured adventurers to the literal ends of the earth. Its staggering landscapes include igneous pinnacles, grinding rivers of glacial ice, and wildlands that are still
truly wild. In this book, expert traveler Wayne Bernhardson tells you everything you need to know to make this trip possible. Suggested routes for road trips along the coast and through the Andes, with mileage, driving times, and recommendations on the best places to stop
Where to see wildlife, including penguins, whales, dolphins, and sea lions
How to choose guides, tours, and means of transportation, including plane, car, bus, and boat
How to get there and how to get around, including information on stopping over in Buenos Aires and Santiago

About the Author
Wayne Bernhardson first traveled to Patagonia in 1979, visiting both Chile and Argentina as far as Tierra del Fuego, "the uttermost part of the earth," and has returned to the region almost every year since 1990. He also spent a year walking, sailing, and flying around the Falkland Islands (Islas Malvinas) and had the pleasure of revisiting them to research this book. He owns an apartment in Buenos Aires, near the Palermo botanical gardens, and spends four to five months in the "Southern Cone" countries every year. Wayne earned his PhD in geography at the University of California, Berkeley, but abandoned academia for a perpetual Latin American road trip that many university faculty envy. He is the author of Moon Handbooks to Argentina, Chile, and Buenos Aires, and has written for magazines and newspapers including Trips, the San Francisco Chronicle, the American Geographical Society's Focus, Business Traveler, Dupont Registry Tampa Bay, Postcards, National Geographic Traveler, Latin Trade, and Travel Holiday. He often gives slide lectures on destinations he covers in his books. When not in South America, Wayne resides in Oakland, California, with his wife, Maria Laura Massolo; their daughter, Clio Bernhardson-Massolo; and their Alaskan malamute, Malbec (named for Argentina's signature red wine).
Advertisement