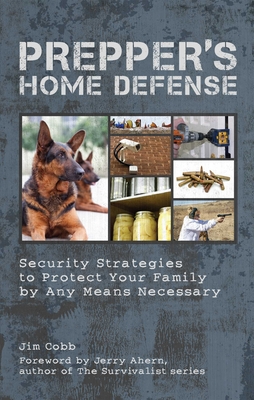 Prepper's Home Defense: Security Strategies to Protect Your Family by Any Means Necessary (Paperback)
Security Strategies to Protect Your Family by Any Means Necessary
Ulysses Press, 9781612431154, 223pp.
Publication Date: December 18, 2012
Description
DETER . DELAY. DEFEND
Does your disaster preparation plan include security measures? When civilization fails and the desperate masses begin looting, they will come for your food, water and life-sustaining supplies. This book shows you how to implement a complete plan for operational security and physical defense, including:
- Perimeter Security Systems and Traps
- House Fortifications and Safe Rooms
- Secured and Hidden Storage
- Firearms and Defensive Combat Techniques
- Gathering Intelligence and Forming Alliances

About the Author
Jim Cobb is a disaster readiness expert. He has been a prepper for most of his life and has worked almost twenty years in the security management and investigation fields. Jim writes The Frugal Prepper column in Survivalist Magazine as well as a daily blog for Survival-Gear.com. Jim's primary home online is found at SurvivalWeekly.com. He lives and works in the Upper Midwest, sequestered in a fortified bunker with his lovely wife and their three kids.
Advertisement