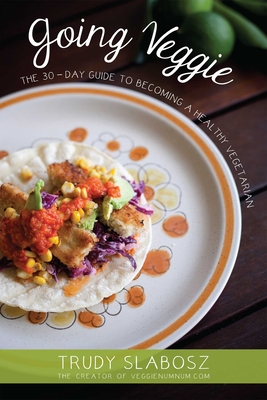 Going Veggie (Paperback)
The Simple 30-Day Guide to Becoming a Healthy Vegetarian
Ulysses Press, 9781612433950, 224pp.
Publication Date: January 13, 2015
* Individual store prices may vary.
Description
DISCOVER THE EASY AND SATISFYING WAY TO ACHIEVE A HEALTHFUL, MEAT-FREE, CRUELTY-FREE LIFE IN JUST 30 DAYS
Becoming a vegetarian is not about giving up meat, it's about adopting a healthy, cruelty-free lifestyle that will inspire and satisfy you. With
Going Veggie
, your transition is guaranteed to be easy and painless thanks to the book's step-by-step plan, including:
30-day program to wean you off a meat diet
Recipes for delicious, nutrient-packed meals
Tricks for acquiring essential proteins using plant-based options
Advice on navigating tough spots, cravings and backsliding
Tips on how to deal with group dinners and ordering at restaurants
Going Veggie
puts the fun, adventure and motivation into your path to vegetarianism.
About the Author
Trudy Slabosz is the creator of the super-popular vegetarian blog Veggie Num Num. She has been a vegetarian for 14 years and absolutely adores vegetarian food, cooking and most importantly eating. Vegetarianism has had a profoundly positive effect on her life and her aim is to share just how easy, healthy, and delicious being a vegetarian can be. She lives and cooks in South-east Queensland, Australia, with her wonderful husband, Cam, amazing daughter, Luella, and fat tabby cat, Ludo.