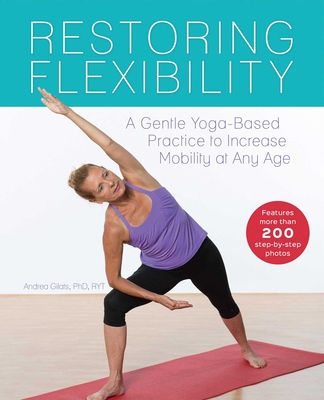 Restoring Flexibility
A Gentle Yoga-Based Practice to Increase Mobility at Any Age
Paperback

* Individual store prices may vary.
Description
This fully illustrated, step-by-step program shows readers how to optimize stretching and yoga exercises to improve mobility, prevent injury, and promote long-term health.
No matter what age you begin doing yoga, it will help you steadily renew your physical abilities. Done over four weeks, this 25-minute, twice-weekly program features gentle poses, practice sequences and techniques to help you:
Improve your posture
Increase spinal flexibility
Release tightness in your shoulders
Relax the muscles in your torso
Expand mobility in your hip joints
Reduce the chances of falling
This book's safe, age-appropriate, customizable approach to yoga-based exercise is specifically designed to restore your flexibility, mobility, and agility while ensuring a longer life and more independent lifestyle. As this flexibility practice becomes a regular habit, you'll feel more energetic and enjoy moving freely. Your favorite physical activity, like walking, golf and even dancing, will once again became a personal pleasure.
?
Ulysses Press, 9781612434919, 144pp.
Publication Date: November 10, 2015
About the Author
Andrea Gilats, Ph.D., R.Y.T., is a certified yoga teacher, writer, and nationally recognized expert on later-life learning who spent three decades as an award-winning educational leader at the University of Minnesota. Through Third Age Yoga, her community-based teaching practice, she has worked with hundreds of vital people in their 50s, 60s, 70s, and beyond who seek a body-sensitive, age-appropriate approach to yoga. Her Third Age Yoga videos have been viewed over 20,000 times on YouTube, and she offers helpful tidbits about yoga, exercise, and aging well on her Third Age Yoga Facebook page.