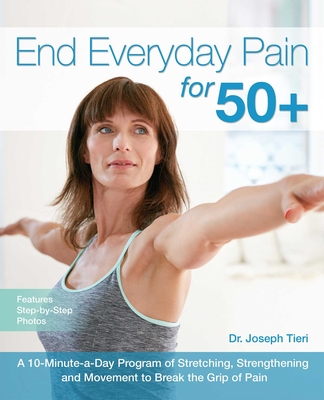 End Everyday Pain for 50+
A 10-Minute-a-Day Program of Stretching, Strengthening and Movement to Break the Grip of Pain
Paperback

* Individual store prices may vary.
Description
Discover simple methods that will provide you with quick relief and lasting solutions to everyday pain by fixing your body's alignment through stretching and movement.

End muscle and joint pain for good. You've probably heard that as you get older, you are guaranteed to have more muscle and joint pain. That's simply not true. These chronic ailments arise from years of decreased activity and poor posture—not aging. End Everyday Pain for 50+ presents a complete 10-minute-a-day program to correct previous damage, develop healthier joints, and stay pain free at any age.

This book's step-by-step approach provides quick relief and lasting solutions by fixing your body's alignment through simple stretching and movement. No matter what part of your body is hurting, End Everyday Pain for 50+ offers a treatment to heal it, including:

• Neck Stiffness
• Shoulder Bursitis
• Tendinitis
• Hip Misalignment
• Headaches
• Lower Back Pain
• Sciatica
• Meniscal Tears
Ulysses Press, 9781612436043, 144pp.
Publication Date: October 11, 2016
About the Author
Dr. Joseph Tieri is an osteopathic medical physician and a specialist in the holistic hands-on healing practice of osteopathic manipulation. He has been in private practice for more than sixteen years and has treated thousands of adults and children suffering from a variety of ailments. Dr. Tieri is the author of End Everyday Pain for 50+, has lectured and published articles on alternative medicine and osteopathy, and serves as a clinical instructor teaching medical students and residents at his office, the Stone Ridge Healing Arts Center in Stone Ridge, NY, of which he is part owner. He enjoys raising his daughter Alexis with his wife Janice, and his hobbies include hiking and skiing in the Catskills Mountains, and practicing karate—in which he holds a black belt degree.