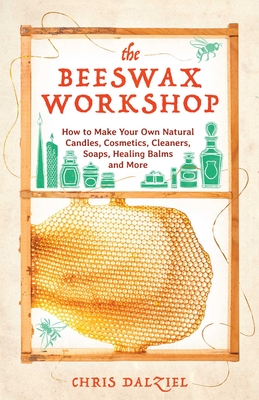 The Beeswax Workshop
How to Make Your Own Natural Candles, Cosmetics, Cleaners, Soaps, Healing Balms and More
Paperback

* Individual store prices may vary.
Description
Learn how to transform miraculous beeswax into candles, soaps, environmentally friendly household cleaners, amazing DIY crafts and much more.

Making all kinds of amazing, all-natural stuff out of beeswax is easy and fun. Packed with over 100 step-by-step recipes, The Beeswax Workshop shows you how to create beeswax alchemy - turning this simple, magical substance into candles, beautiful gifts, soaps, household cleaners, beauty supplies and so, so much more:

HOME
• Mason Jar Candle
• English Furniture Polish

HEALTH
• Bug-Be-Gone Insect Repellent
• Chamomile Sunburn Salve

BEAUTY
• Everyday Body Butter
• Rose Lip Gloss

GARDEN
• Waterproof Shade Hat
• Nontoxic Wood Sealant

Whether you use beeswax from your backyard hive or purchase a supply, this book offers tips, tricks and techniques for getting the most out of this miracle ingredient.
Ulysses Press, 9781612436487, 192pp.
Publication Date: December 20, 2016
About the Author
Chris Dalziel is a teacher, author, gardener, and herbalist with 30+ years' of growing herbs and formulating herbal remedies, skin care products, soaps, and candles. She teaches workshops and writes extensively about gardening, crafts, and medicinal herbs on her blog at JoybileeFarm.com. Beeswax is a central player in these interests.

Formerly the president of the Boundary Artisan Association and the Boundary Spinners and Weavers Guild, Chris led both organizations through 2 successful art gallery shows. She's won awards for her textile designs and was featured in The Ashford Wheel Magazine in 2011.

Chris is a contributing writer to The Biblical Herbal Magazine, The FermenTools Blog, and the Attainable Sustainable blog. Her other books, The Beginners Book of Essential Oils and Homegrown Healing are available on Amazon.

Chris lives with her husband Robin in the mountains of British Columbia on a 140 acre ranch, with sheep, dairy goats, llamas, and a few retired chickens. They have three adult children and three granddaughters.