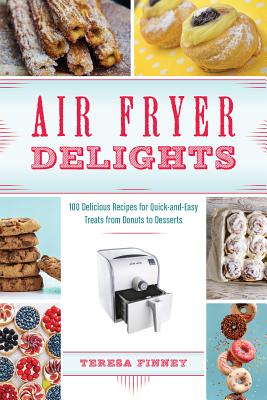 Air Fryer Delights (Paperback)
100 Delicious Recipes for Quick-and-Easy Treats From Donuts to Desserts
Ulysses Press, 9781612437583, 208pp.
Publication Date: October 17, 2017
* Individual store prices may vary.
Description
EVERYONE'S FAVORITE SWEET TREATS MADE MORE DELICIOUS IN THE QUICK, CLEAN AND CONVENIENT AIR FRYER

Go beyond wings, poppers and french fries. Your quick, clean and convenient air fryer is equally great for making delicious versions of your favorite pastries, snacks and desserts! And because the air fryer uses very little oil, these recipes offer a healthier alternative to deep frying. Truly a revolutionary way to create delectable treats, the 100 handy recipes in Air Fryer Delights include:

DONUTS
• Glazed Vanilla Bean
• Maple Bacon
• Mexican Churros

PASTRIES
• Peach Pecan Tarts
• S'mores Tarts
• Caramel Apple Turnovers

CAKES
• Peanut Butter
• Black Forest
• Mint Chocolate

COOKIES
• Chocolate Chip Sea Salt
• Snickerdoodles
• Dark Chocolate Pistachio

BREADS & PUDDINGS
• Lemon Glazed Loaf
• Pumpkin Bread Pudding
• Cinnamon Rolls
About the Author
Teresa Finney's food writing has appeared on Vice, Bravo!, The Today Show, Civil Eats, and elsewhere. Originally from the Bay Area, California, she studied English Literature at New York University before moving to Atlanta, Georgia to work as a recipe developer. Finney's passion is using the classic Mexican flavors she grew up on in baking projects. Visit her website milagrokitchen.com, or follow her on Twitter at @teresatothemax.