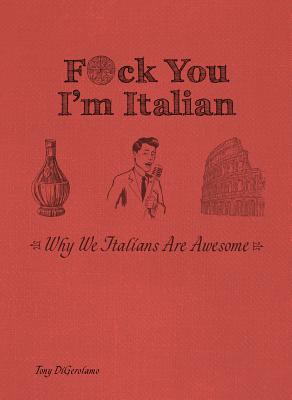 F*ck You, I'm Italian
Why We Italians Are Awesome
Hardcover

* Individual store prices may vary.
Description
An entertaining, page-turning overview of Italian-American history and culture From ancient Rome to modern America, we Italians have always been the friggin' best in art, science, culture and--Madonn'--food Now, this fascinating collection of Italian history, people, facts and trivia will make you proudly say, "F*ck you, I'm Italian," including... Culture
(from the Renaissance to The Godfather) Music
(from Frank Sinatra to Lady Gaga) History
(from gladiators to Rocky) Food
(from sauce to cannoli) Family
(from Sunday mass to Sunday dinner)
Ulysses Press, 9781612437828, 192pp.
Publication Date: March 15, 2018
About the Author
Tony DiGerolamo is a New Jersey writer of comedy, movies, books, comics and games. He is best known for his work on The Simpsons and Bart Simpson comics. He's been a writer for Politically Incorrect with Bill Maher, Space Ghost: Coast to Coast and the Comedy Central website. His screenplays include The Evil Within and Mafioso: The Father, The Son. His novels include Fix in Overtime and The Undercover Dragon. His graphic novels include Lester Crenshaw is Dead and Mark Twain's Personal Reflections of Joan of Arc. He is creator of Tony DiGerolamo's Complete Mafia for d20. His webcomic sites include Super Frat at www.superfrat.com and the Webcomic Factory at www.webcomicfactory.com.
or
Not Currently Available for Direct Purchase