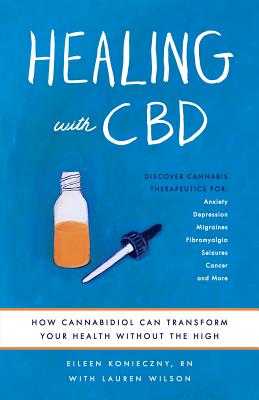 Healing with CBD
How Cannabidiol Can Transform Your Health Without the High
Paperback

* Individual store prices may vary.
Description
A complete, easy-to-understand guide to cannabidiol (CBD) treatments and benefits. Drawing from years of patient experience, extensive scientific studies and the current product landscape, this complete guide provides everything you need to know about cannabidiol (CBD). Authors Eileen Konieczny, RN, and Lauren Wilson use their years of medical and writing experience to separate the CBD facts from fiction. Finding accurate information on the health benefits of CBD can be difficult, but this easy-to-understand book breaks down all the studies, rumors and medical information, including: - What CBD is and how it's made
- How it's different than THC
- Potential treatments for common ailments
- How to buy safe, quality products
- Dosing considerations and effects
- An overview of the endocannabinoid system
- The legality and history of CBD.
Ulysses Press, 9781612438290, 224pp.
Publication Date: September 18, 2018
About the Author
Eileen Konieczny, RN, has spent decades working to alleviate the suffering of those she cared for as a bedside registered nurse who specialized in cancer. Since 2008, after learning how safe and therapeutic the cannabis plant can be, Eileen stepped out of her comfort zone and began advocating on behalf of its use as medicine. International Nurse Leader, President, Strategist, and Cannabis Nurse are all titles that Eileen holds from her work and knowledge around cannabis. She has educated thousands on the benefits of cannabis and played an instrumental role in securing safe access to medical cannabis for 23 million people. Eileen lives in New York's Hudson Valley with her family, pets and farm animals. Lauren Wilson is a professional writer, cannabis enthusiast, and food lover. She initially came to the cannabis world as a recreational user in her youth, and has since developed a far more deep and meaningful relationship to the plant as a patient seeking a natural and non-toxic option for chronic pain relief. As co-author of Healing with CBD, Lauren hopes to help and support those who may not have considered cannabis therapeutics, offering the knowledge and confidence they might need to try it. A graduate from Toronto's George Brown Chef School in 2008, Lauren is the author of The Walking Dead: The Official Cookbook and Survival Guide and The Art of Eating Through the Zombie Apocalypse: A Cookbook and Culinary Survival Guide and lives in Brooklyn, NY.