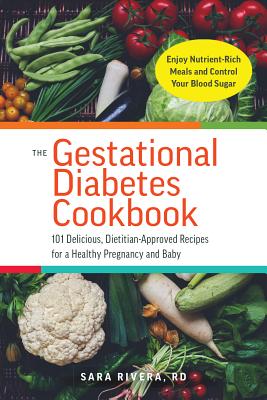 The Gestational Diabetes Cookbook
101 Delicious, Dietitian-Approved Recipes for a Healthy Pregnancy and Baby
Paperback

* Individual store prices may vary.
Description
A go-to collection of easy and tasty recipes specifically-designed to manage blood sugar, maintain a nutritionally complete diet, AND keep mom and baby healthy No matter how carefully you watch your health, gestational diabetes can develop during your pregnancy. If this has happened to you, it's vital that you take steps to control your blood sugar right away, otherwise your unborn child can suffer an array of complications in the womb and has a greater risk for developing diabetes and obesity later in life. Fortunately, this book offers nutritional and dietary modifications that will allow you to manage your gestational diabetes. By following the book's carbohydrate-controlled diet, as well as its delicious and balanced recipes, you will get enough nutrients to support your hard-at-work body and the needs of your growing baby--all while maintaining normal blood sugar levels Also included is helpful information on simplifying meal planning and quickly creating nutritious grocery lists, but at the core are the healthy recipes, such as: - Baked Cauliflower Tots
- Chicken Fajita Foil Packets
- Beef Teriyaki Lettuce Wraps
- Portobello Pizza
- Curried Salmon Cakes
- Chocolate Chip Skillet Cookies
- Spinach Stuffed Pork Chops
- One-Pan Pesto Chicken
Ulysses Press, 9781612438689, 184pp.
Publication Date: January 15, 2019
About the Author
Sara Monk Rivera, RD, is a registered dietitian based in New Jersey. She has dedicated her life to spreading awareness of real food nutrition to help people find freedom from chronic health conditions and harmful dieting. Sara is the founder of her private practice, Mindful Meals Nutrition Services, LLC, where she provides her patients with a variety of nutrition-related diseases with medical nutrition therapy, education, and meal preparation services. Sara is also the co-author of DASH Diet for Renal Health. To learn more, please visit: www.dietitiansara.com