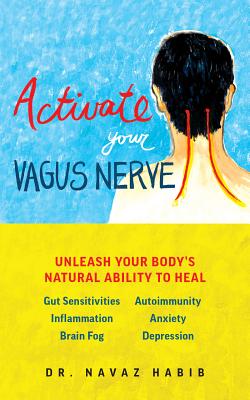 Activate Your Vagus Nerve (Paperback)
Unleash Your Body's Natural Ability to Overcome Gut Sensitivities, Inflammation, Autoimmunity, Brain Fog, Anxiety and
Ulysses Press, 9781612438740, 192pp.
Publication Date: April 2, 2019
* Individual store prices may vary.
Description
TAKE BACK CONTROL OF YOUR HEALTH If you are ready to overcome your health challenges, this book is for you. Chronic stress and inflammation make it difficult for your cells to function optimally This helpful guide provides all the tools you need to understand and heal your vagus nerve, the rest, digest and recovery system. You'll learn simple yet powerful techniques to address your diagnosis from its root cause, including: Breathing Techniques Exercises for Mindfulness Tools to Improve Your Digestion Functional Medicine Testing Acupuncture and Massage and more
About the Author
Upon discovering functional medicine, Dr. Navaz Habib uncovered the root causes of his health conditions and overcame them using simple lifestyle changes and daily practices. He has lost 75 pounds, and overcome borderline diabetes, high blood pressure, IBS and sleep apnea to revitalize his life and his health. Dr. Habib has worked with thousands of patients, helping them address the root cause of their health conditions. He works to identify the underlying causes of energy issues, hormone-based conditions, autoimmune diseases and metabolic concerns, and uses simple daily lifestyle changes to create positive health outcomes with the support of the team at the Living Proof Institute.