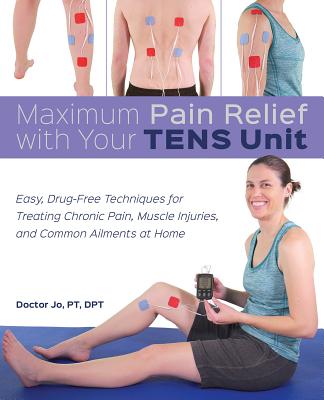 Maximum Pain Relief with Your Tens Unit
Easy, Drug-Free Techniques for Treating Chronic Pain, Muscle Injuries and Common Ailments at Home
Paperback

* Individual store prices may vary.
Description
Conquer Everyday Back, Shoulder, and Neck Pain with the Revolutionary Power of TENS Pain can transform your entire life, making even the simplest of tasks unbearable. Instead of turning to opioids and endless doctor appointments, there is now an at-home solution: TENS. Transcutaneous electrical nerve stimulation (TENS) units can decrease acute and chronic pain while significantly reducing, or even eliminating, the need for often-dangerous medication.
This book is full of tips, techniques, and step-by-step color photos to get the most out of your TENS unit. For beginners to more advanced users, this book has solutions for everyone. It offers not only an overview of how the units work, but also how to properly place the electrodes to get the best results for various injuries and ailments throughout the body. Some of these include: sciatica, herniated discs, fibromyalgia, peripheral neuropathy, and tension headaches.
Ulysses Press, 9781612439372, 112pp.
Publication Date: August 20, 2019
About the Author
Doctor Jo is a licensed physical therapist and a doctor of physical therapy. She graduated from the University of South Carolina Doctor of Physical Therapy program in 2007. Dr. Jo has worked in many different settings including: outpatient hospital-based rehab, acute care, inpatient rehab, outpatient sports medicine, and aquatic therapy. She has worked with a wide variety of patients ranging in ages from 1 to 92, including NFL athletes and great-great-grandmothers. Dr. Jo also runs the popular "Ask Doctor Jo" YouTube channel and website (AskDoctorJo.com), where she exposes as many people as possible to the benefits of physical therapy, especially those who don't have access to adequate healthcare. Ask Doctor Jo has hundreds of thousands of subscribers on YouTube, Facebook, and other social media channels.