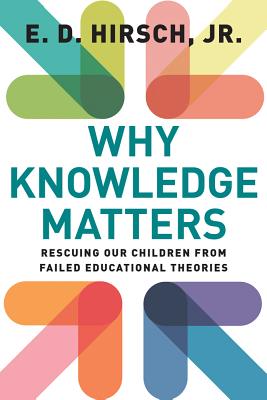 Why Knowledge Matters
Rescuing Our Children from Failed Educational Theories
Paperback

* Individual store prices may vary.
Other Editions of This Title:
Library Binding (9/20/2016)
Description
In Why Knowledge Matters, influential scholar E. D. Hirsch, Jr., addresses critical issues in contemporary education reform and shows how cherished truisms about education and child development have led to unintended and negative consequences. Hirsch, author of The Knowledge Deficit, draws on recent findings in neuroscience and data from France to provide new evidence for the argument that a carefully planned, knowledge-based elementary curriculum is essential to providing the foundations for children's life success and ensuring equal opportunity for students of all backgrounds. In the absence of a clear, common curriculum, Hirsch contends that tests are reduced to measuring skills rather than content, and that students from disadvantaged backgrounds cannot develop the knowledge base to support high achievement. Hirsch advocates for updated policies based on a set of ideas that are consistent with current cognitive science, developmental psychology, and social science. The book focuses on six persistent problems of recent US education: the over-testing of students; the scapegoating of teachers; the fadeout of preschool gains; the narrowing of the curriculum; the continued achievement gap between demographic groups; and the reliance on standards that are not linked to a rigorous curriculum. Hirsch examines evidence from the United States and other nations that a coherent, knowledge-based approach to schooling has improved both achievement and equity wherever it has been instituted, supporting the argument that the most significant education reform and force for equality of opportunity and greater social cohesion is the reform of fundamental educational ideas. Why Knowledge Matters introduces a new generation of American educators to Hirsch's astute and passionate analysis.

Harvard Education PR, 9781612509525, 280pp.
Publication Date: September 20, 2016
About the Author
E. D. Hirsch, Jr., is the author of numerous books, including the bestsellers Cultural Literacy and The Dictionary of Cultural Literacy (both Houghton Mifflin). Other books by Hirsch on related subjects are A First Dictionary of Cultural Literacy (Mariner); the Core Knowledge Sequence, What Your [First Through Sixth] Grader Needs to Know (Doubleday); The Schools We Need and Why We Don't Have Them (Anchor); and most recently, The Making of Americans (Yale University Press). These works have influenced recent educational thought and practice in the United States and other countries. Hirsch is a graduate of Cornell University, and holds master's and doctoral degrees from Yale University. He began his teaching career at Yale, specializing in Romantic Poetry and Literary Theory, and in 1966 became Professor of English at the University of Virginia, where he served twice as chairman of his department. Before his retirement in 2000 he held the position of University Professor of Education and Humanities. In 1977, he was elected to the American Academy of Arts and Sciences and in 1997 to the International Academy of Education. He is the recipient of several honorary degrees, has been a Fulbright and a Guggenheim fellow, a fellow of the Center for Advanced Study in the Behavioral Sciences at Stanford University, a Humanities fellow at Princeton University, a fellow at the Australian National University, and an honoree of the Royal Dutch Academy and of the National Academy in Rome. He received the biennial QuEST award of the American Federation of Teachers in 1997, and the Fordham Award for Valor in Education in 2003. In 2012, the Education Commission of the States presented Hirsch with the Conant Award for "Outstanding Contributions to American Education." He has served on many advisory boards, including the National Council on Educational Research. Hirsch is founder of the nonprofit Core Knowledge Foundation, an organization that continues to advise and help schools, with over one thousand Core Knowledge schools in forty-seven states and abroad.