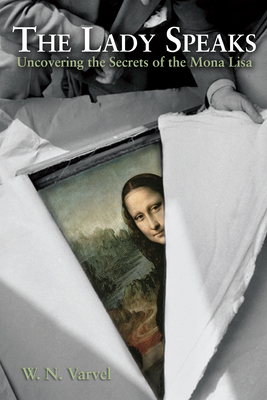 The Lady Speaks (Hardcover)
Uncovering the Secrets of the Mona Lisa
Brown Books, 9781612540733, 193pp.
Publication Date: February 13, 2014
* Individual store prices may vary.
Description
For almost five hundred years, the Mona Lisa smile has mystified viewers and intrigued historians. Completed in 1515, the Mona Lisa has hidden the lady's secret well. Now, after years devoted to research and analysis of the works of Leonardo da Vinci, W. N. Varvel has decoded the Mona Lisa and reveals the message within her smile, a secret too dangerous for the artist to acknowledge during his life but one which he hoped future generations would understand and embrace. The coming of the "New Jerusalem" depends on the world's recognizing what lies behind the Mona Lisa smile. Detailing how the artist wove a calculated fabric of clues, symbols, and images, Varvel establishes not only da Vinci's, but also Michelangelo's, belief in Theological Gender Equality. Like a detective on the trail of a major case, Varvel tracks clues, links previously unnoticed connections, recreates scenarios, identifies villains and heroes, and weaves a tapestry of comprehensive evidence to "prove" what the lady says. For five hundred years, the lady has smiled now she speaks.
Praise For The Lady Speaks: Uncovering the Secrets of the Mona Lisa…
"A most brilliant and insightful read! To think that both Michelangelo and Leonardo da Vinci were aware of the necessity for the Church to recognize Theological Gender Equality over five hundred years ago testifies to their divine genius, particularly in light of the danger from the Holy Tribunal of the Inquisition."

- James O. Duke, PhD, Professor, Brite Divinity School


"The Lady Speaks compels the church to critically reexamine biblical texts and iconic religious works of art in order to derive those refined truths that currently run counter to traditional patriarchal and andocentric interpretations."

—Rev. Dr. Irie Session, Senior Pastor, Warren Avenue Christian Church


"The Lady Speaks presents Leonardo da Vinci's hidden message within the Mona Lisa, Theological Gender Equality to the Priesthood of Jesus Christ. This message broadens the understanding of men and women to the truth that the Priesthood of Jesus Christ is universal to all."

- Brenda Gordon, Product Manager, Vice President of a large financial institution


"The Mona Lisa is both a masterpiece in art as well as a religious icon. Readers of The Lady Speaks will never be able to view the Mona Lisa in the same way."

—Rev. Dr. Alphina Wines, Pastor, Dido United Methodist Church


"After nearly five hundred years of speculation, The Lady Speaks. This is a brilliant, engaging, and well-documented presentation of the hidden truth within the Mona Lisa. The message of Theological Gender Equality is of profound importance to our generation and illuminates the original intent of Leonardo da Vinci."

—Jennifer Mitchell, JD, Attorney-at-Law

or
Not Currently Available for Direct Purchase