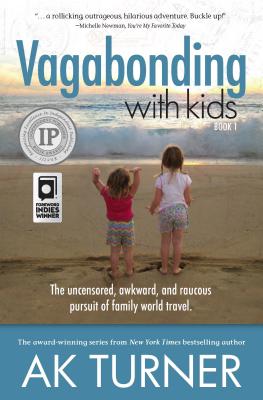 Vagabonding with Kids: The Uncensored, Awkward, and Raucous Pursuit of Family World Travel (Paperback)
The Uncensored, Awkward, and Raucous Pursuit of Family World Travel
Brown Books Publishing, 9781612549149
Publication Date: August 15, 2016
* Individual store prices may vary.
or
Not Currently Available for Direct Purchase
Description
Since Tim Ferriss unleashed The 4-Hour Workweek, everyone wants to break out of the cubicle and live exotic and fulfilling lives pursuing various passions around the world. But not everyone is an independently wealthy, lone, male traveler. And not everyone wants to condense his or her workweek into four hours. From the perspective of a remotely working mom who loves her job, Vagabonding with Kids examines a way of life that doesn't buck the system, but selectively ignores it when not applicable. From hybrid forms of education and adapting to holidays in a temporary home on the other side of the world, to foreign emergency rooms and mourning the loss of personal space, Vagabonding with Kids weaves the true stories of a typical family living an atypical life with the laughter and adventure that fans of AK Turner's previous work have come to love.
Through humorous narrative and with examples from travels around the world, from the Amazon jungle to southern Tasmania, Vagabonding with Kids explores various aspects of the digital nomad experience, as told from a perspective rarely seen in the world of lifestyle entrepreneurs. How does a mom who is terrified of homeschooling tackle homeschooling? What is the best way to tell your kids that Santa can't make it this year? How does a family of four afford traveling around the world? With her no-holds-barred humor and honesty, Turner answers these questions and more in support of the vagabonding lifestyle. Vagabonding with Kids kicks off a travel series that is both long overdue and unlike anything we've seen before.
About the Author
AK Turner is the New York Times bestselling author of This Little Piggy Went to the Liquor Store, Mommy Had a Little Flask, and Hair of the Corn Dog. Her works have received a starred review from Publishers Weekly, an IPPY Award for Humor, and been named in BookLife's Top 5 Indie Books of 2014. She is a contributor to the anthologies Leave the Lipstick, Take the Iguana (Traveler's Tales), Little White Dress (Mill Park Publishing), and I Just Want to Be Alone (Throat_Punch Books). Her work has been featured online at Scary Mommy, In the Powder Room, The Huffington Post, Nickmom, Felicity Huffman's What the Flicka?, and Artocratic, among others, and in a variety of print publications. She is a former humor columnist, founded "The Writers' Block" on Radio Boise, hosted the "Tales of Imperfection" podcast, serves on the board of the Idaho Writers Guild, and speaks at conferences and in live comedy events. A former Writer-in-Residence for the City of Boise, she lives in Idaho with her husband and two children, but travels frequently as a part-time digital nomad. Her next series focuses on parenting humor and travel.
Advertisement