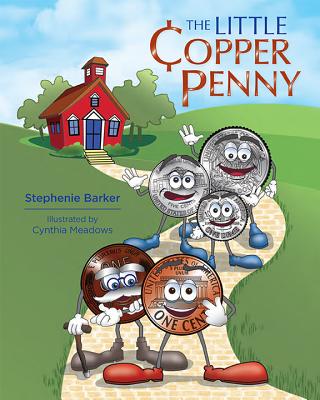 The Little Copper Penny (Hardcover)
Brown Books Kids, 9781612549439, 32pp.
Publication Date: April 1, 2017
* Individual store prices may vary.
Description
BIG, SHINY, COPPER, OR SMALL--YOU ARE STILL WORTH IT ALL. It makes "cents" to know your worth Little Copper Penny is sad because all the other coins say pennies are worthless. Luckily Grandpa Wheat--who has been around for a very long time--knows just how Little Copper Penny feels and exactly what to say to cheer him up A charming story about accepting who you are, Stephanie Barker's The Little Copper Penny not only makes counting fun but also reminds you to know your worth, no matter what others say. Join Little Copper Penny and Grandpa Wheat for a memorable rhyme that will help you see that no matter who (or what) you are, you have value.
About the Author
Stephenie Barker has been teaching her children the value of planning and saving money since they were very young and imparting strong principles and life guidelines to them. With The Little Copper Penny, Stephenie hopes to do the same for children everywhere and show young minds the value and importance of every little cent. She is also proud and overjoyed to see children taking a greater message away from her book: that everything and every person has value, no matter how big or small they may be.  Cynthia Meadows, a native Texan, draws and paints on anything she can find. Whether it was cartoons on the sides of her homework in elementary school, paintings as Christmas gifts, murals or faux finishes on walls, or illustrations and storyboards for advertising agencies, she has continually decorated the world. Cynthia's desire to look inside characters is the reason she loves to illustrate children's books, to create characters, and to give the reader a positive, often humorous, view of life.
Praise For The Little Copper Penny…
"The Little Copper Penny is a fun way to help kids learn about the value of coins but more importantly to help them learn that everyone has value."
—Dennis Fitzgerald, Banking Center Manager, Comerica Bank

"Highly recommended. A fun, engaging way to introduce children to money and how to count."
—Linda Greiner, author of the Sashi children's book series

"Wow! What a great way to teach little ones the differing values of coins. Younger elementary students will read this book over and over."
—Sheryl Dougherty, Retired Elementary/Middle School Teacher and Grandmother

"Stephenie has shown us that these little but mighty pennies have the ability to inspire every child, encouraging them to recognize their own uniqueness and self-worth."
—Blaine Riney, Senior Loan Officer, First National Bank Mortgage

or
Not Currently Available for Direct Purchase