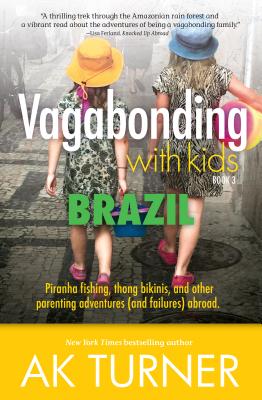 Vagabonding with Kids (Paperback)
Brazil: Piranha Fishing, Thong Bikinis, and Other Parenting Adventures (and Failures) Abroad
Brown Books Publishing Group, 9781612549644, 250pp.
Publication Date: September 5, 2017
Description
The Turners are on the road again in a raucous continuation of the Vagabonding with Kids series, exploring Brazil from the Amazon rain forest to Rio's famed Copacabana Beach. But this time the in-laws are along for the ride, and three generations have to survive close quarters, radioactive beaches, and jungle hammocks for accommodations. Armed with little knowledge of Portuguese, but a great appreciation for the Brazilian national drink, the nomadic family finds adventure (and laughter) at every turn.
About the Author
AK Turner is a part-time digital nomad and the New York Times bestselling author of This Little Piggy Went to the Liquor Store, Mommy Had a Little Flask, Hair of the Corn Dog, and the Vagabonding with Kids series, which chronicles her family's travels to Australia, Brazil, Alaska, Mexico, Spain, and other locations around the world. When she's not fishing for piranha or living in tree houses with her husband and two daughters, Turner lives in Boise, Idaho.

Advertisement