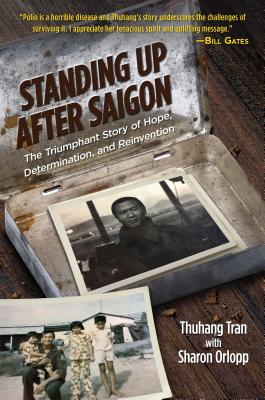 Standing Up After Saigon
The Triumphant Story of Hope, Determination, and Reinvention
Hardcover

* Individual store prices may vary.
Description
In this incredible true story of familial love and triumph through adversity, Thuhang Tran and Sharon Orlopp document decades in the lives of Thuhang and her father, Chinh Tran. Thuhang was born in 1970 in Saigon, near the end of the Vietnam War. She contracted polio as a baby, and though her family sacrificed much to seek treatment, their efforts were halted by the fall of Saigon. Chinh was an air traffic controller in the South Vietnam Air Force at the time, and was lost in the evacuations from Saigon, separated from Thuhang and the rest of his family and presumed dead. This powerful memoir follows Thuhang and her father Chinh through their respective struggles, from Thuhang's battle with polio and the impact of her father's absence, to Chinh's immigration to the United States and his desperate 15-year mission to be reunited with his family. Thuhang has remained hopeful and resilient through all the seemingly impossible hurdles she's faced, and lives today to tell her story and inspire those around her to find strength through perseverance.
Brown Books Publishing Group, 9781612549897, 200pp.
Publication Date: May 1, 2018
About the Author
Thuhang Tran was born in Saigon and developed polio as a toddler. When Saigon fell in 1975, her father narrowly escaped to the US and left his family behind. Later, the family was told that he had been killed in a helicopter crash. It took almost fifteen years for Thuhang's family to be reunited. When Thuhang immigrated to America, she had surgery and intense physical therapy that enabled her to stand upright after crawling and squatting on the floor for seventeen years. She went on to start her new life by learning English, graduating from college, and working at several Fortune 500 companies in Information Technology. Several years ago, she focused her energy on helping orphaned and disabled children in Vietnam. Her future goals include creating a non-profit organization to help disabled children in Vietnam.

Sharon Orlopp is an expert on everyday inclusion. As the Global Chief Diversity Officer and Senior Vice President of Human Resources for Walmart, she created unique experiential immersion trips to teach others about different cultures. As an author, editor, and speaker, she is passionate about building a world where every person is valued and included. Sharon believes in the transformative power of personal stories to touch the heart, which in turn change behaviors.

or
Not Currently Available for Direct Purchase