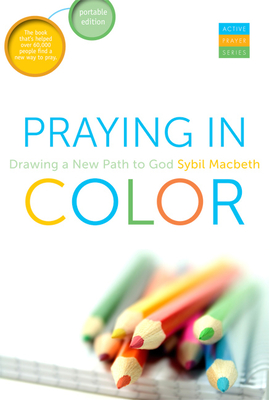 Praying In Color (Paperback)
Drawing a New Path to God--Portable Edition
Paraclete Press, 9781612613536, 112pp.
Publication Date: April 1, 2013
* Individual store prices may vary.
Description
Praying in color can take as little or as much time as you have or want to commit, from 15 minutes to a weekend retreat. "A new prayer form gives God an invitation and a new door to penetrate the locked cells of our hearts and minds," explains MacBeth. "For many of us, using only words to pray reduces God by the limits of our finite words." Maybe you hunger to know God better. Maybe you love color. Maybe you are a visual or kinesthetic learner, a distractable or impatient soul, or a word-weary pray-er. Perhaps you struggle with a short attention span, a restless body, or a tendency to live in your head this new prayer form helps to communicate with God. This smaller, "portable" edition has also been revised and updated by the author for the new format.
About the Author
Sybil MacBeth is the author of Praying in Color: Drawing a New Path to God (2007) and Praying in Color Kids' Edition (2009). Praying in Color uses doodling and coloring as a way to get still and listen to God. Sybil combines her lifelong love of prayer with her experience as a community college mathematics professor to offer workshops and retreats throughout the U.S. and Canada. Her workshops, both prayerful and playful, engage people of varied learning styles. Sybil is married to Andy MacBeth, an Episcopal priest, and is the mother of two adult sons.
 
Praying in Color has been translated into Spanish, Italian and Korean. Her 2014 book The Season of the Nativity: Confessions and Practices of an Advent, Christmas, and Epiphany Extremist (Paraclete Press, Fall 2014) invites people to experience the richness of the holiday season at home. Learn more at Sybil's website and blog: prayingincolor.com.