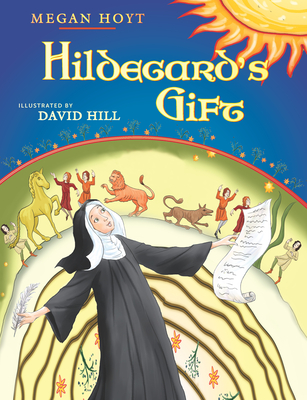 Hildegard's Gift
Paperback

* Individual store prices may vary.
Description
When Hildegard was young, everywhere she went she saw colors and swirls, pictures, and designs. Music filled her soul and she was flooded with ideas—so many that she thought her mind would explode. Then one day it all stopped. In this beautiful book children will join Hildegard on her journey toward devotion to God, service to others, and toward a blessed and solitary life filled with artistic expression.
Praise For Hildegard's Gift…
"Hoyt offers young readers a glimpse into the life of Hildegard of Bingen in the newest in a series of picture books about saints. The text is enlivened by former portrait artist Hill's bright and whimsical illustrations depicting Hildegard's imaginative life. As a young child, Hildegard discovers her gifts—writing, painting and singing. She finds great joy in sharing her gifts with others, but suffers under the strain they bring. With tutelage from a nun, Jutta, and a monk, Volmar, she learns to read and write Latin and to produce plays. After a while, exhausted by the constant work, she becomes seriously ill. A visit from the monk Bernard of Clairvaux restores Hildegard's health. She then finds that her gift has grown even stronger and spends the rest of her life sharing her work with the world. Hoyt believes that every child has a gift, and her book serves as a prompt to talk with children about how to discover their own." —Publishers Weekly

"As a father of three, I love when I find a good children's book to read with my kids. A compelling story with imaginative illustrations engages my kids and keeps them returning to that book again and again. Hildegard's Gift was one such compelling read for my children. My oldest daughter (age six) was interested in the truthfulness of the story that Megan Hoyt tells; there really was a Hildegard whose imagination was set a flame by God. My younger children (ages four and three) were captivated by David Hill's illustrations—a little girl, medieval monastics and colorful visions. This book is about Hildegard's gift but it is also about the gift every child has (and all us adults too). Hoyt's words and Hill's illustrations explore the specialness of each of our calls and helps kids think about what their gift to the world may be. I am not sure that my children get all that, but the beauty and substance of the story entices them." —James Matichuk, Thoughts, Prayers & Songs

"This twelfth-century German nun was a Renaissance woman several centuries before the Renaissance. She was not just a composer; she was also a playwright, a theologian, an abbess, a pharmacist, and a mystic. She was quite a gal, in other words, a great example of a woman who used her gifts to their fullest. That's why I'm delighted that she is the subject of a new picture book for kids: Hildegard's Gift, by Megan Hoyt and illustrated by David Hill. It's a lovely way to introduce kids to this fascinating woman, and to light the spark of their interest in strong spiritual women from the past. Author Hoyt ends the book with an invitation to young readers to think about their own gifts—whether it's drawing, dancing, sports, we all have something we're good at, and that gift can enrich our own lives and the lives of others. It's a great way to bring Hildegard's story back around to the lives of the book's audience, making a tangible point of connection. The illustrations are very inviting, too. Young Hildegard looks like a real girl, not like a plaster saint, and the pictures of her visions practically pop with bright, happy colors. I also like how quotations from Hildegard's writings are worked into the pictures; it subtly weaves her own spiritual insights throughout the book's pages. A very appealing book which would be a great First Communion gift for a little girl. It's a vibrant and loving celebration of Hildegard's unique gift, and a terrific way to introduce kids to her story." —Ginny Kubitz Moyer, Author of Random MOMents of Grace: Experiencing God in the Adventures of Motherhood, RandomActsofMomness.com

"The gifts of Hildegard of Bingen (1098–1179 CE) are not easily translatable into a book for young children. She was a theologian, visionary, poet, and scientist and was renowned for her chants. This picture book serves as a good introduction by bringing the phenomenon down to a child's level.  The accessible text is highlighted by lines from Hildegard's writings, most of which will be understood by the target audience. Child-friendly line-and-watercolor artwork brings Hildegard's stories close." —Booklist

"As difficult a subject as Hildegard of Bingen (1098-1179) is, Hoyt has done a remarkable job in bringing her to children. The illustrations by David Hill will appeal to children, as will the message that every child has a gift to share with others." —Catholic Library Journal
Paraclete Press, 9781612613581, 32pp.
Publication Date: February 1, 2014
About the Author
Megan Hoyt is a veteran writer with credits in television, Internet, and print. She teaches high school creative writing and composition when she isn't writing books for children. She earned her BA in English and History from SMU and a master's in Theology from Regent University. She lives in Charlotte, NC, with her family.