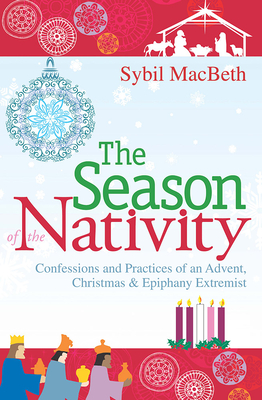 The Season of the Nativity
Confessions and Practices of an Advent, Christmas, and Epiphany Extremist
Paperback

* Individual store prices may vary.
Description
Advent and Epiphany are the often-neglected parentheses around Christmas. Sybil MacBeth wants to change that. The Season of the Nativity – Advent, Christmas, and Epiphany – deserves more attention and better publicity. As the opening three acts for the liturgical year, it sets the stage for our yearlong journey through Scripture and salvation history. This book combines memoir, front-porch theology, and pages of spiritual practices and activities to invite individuals and families into a deeper relationship with a time of year you may have never discovered before. It gives simple tools and exercises for word-weary, distracted, and busy people – perhaps to experience a serious and playful nativity season for the first time.

Praise For The Season of the Nativity: Confessions and Practices of an Advent, Christmas, and Epiphany Extremist…
 "This gorgeous book is going to remain at my reading chair, dog-eared and bookmarked, all through the Yuletide season. It will also be under the tree of just about everyone on my gift list. We will all have more interesting winters, and greater intimacy with Jesus, because of it." —Lauren F. Winner, author of Still and Mudhouse Sabbath

"This beautifully designed book caters to those of us for whom waiting for Christmas is the very best part about the holidays. With activities like Advent calendars, games, doodles, carols, and my personal favorite—'flaunting the color purple'—Sybil MacBeth helps us see the Nativity as an entire season stretching from Advent through Epiphany, each day an opportunity for Technicolor grace." —Jana Riess, author of Flunking Sainthood and Flunking Sainthood Every Day

"If you think you're already familiar with Advent, Christmas, and Epiphany, think again! After reading this book, you'll never see those seasons in the same way. With humor, spiritual wisdom, and innovative activity suggestions, the author makes you open your eyes in wonder." —Linda Douty, spiritual director and author of 5 books, including Rhythms of Growth: 365 Meditations to Nurture the Soul

"With heart-open honesty, Sybil MacBeth opens the door to a new exploration of the three-part Nativity Season. With personal and family-friendly practices and her appealing approach, Sybil invites both seasoned Christians and curious seekers to prepare in Advent, nestle into Christmas, and wonder anew in Epiphany. Extremist? Not really, but perhaps the leader of a new awakening." —Connie Denninger is a retreat leader, teacher of prayer and spiritual disciplines, and advocate of the Arts in Christian Practice

"Sybil MacBeth's genius is for getting the grand themes—like prayer and yearning and waiting and birth and joy—into real life. She starts with scripture and tradition and solid theology and ends up right on the kitchen table or living room (where children and adults alike are actually enjoying one another). As an on-the-ground parish priest, I want this book in every home of every parishioner. That's because I know they want what I want—not to dread the approach of Christmas and feel inadequate in its wake—but to truly experience God's great activity before, during and after in a way that's full of pleasure and meaning. This book lines out the very concrete path from the wish to the reality." —Rev Carleton Bakkum, Episcopal Priest and Rector of Grace Episcopal Church, Yorktown, VA. - also an artist

"The Season of the Nativity by Sybil MacBeth is an invitation into spiritual growth through frameworks and forms—by sharing with the reader some familiar and many new ways to prepare for and celebrate Advent, Christmas, and Epiphany. Her book is an incarnational feast of ideas—both thoughtful and fun, challenging at times and delightful as well. You will want your own copy as well as several to share with your friends." —The Reverend Canon Meredith Hunt, Episcopal Priest, Diocese of Western Michigan

"This fun, colorful little book is designed for those who wish to get more out of the Christmas holiday season. Asserting that most people are so focused on Christmas Day they fail to enjoy the complete season, MacBeth offers prayers, songs, practices and activities to counter the busy-ness of the season. The author begins by explaining the distinctiveness of each part of the season and reviewing past and current holiday practices. Innovative ideas abound; try an Advent exercise which combines voice and body movement to tell the stories of Zechariah and Mary. Other ideas include creating olfactory memories by planting flowers during Advent and watching them grow and praying using a homemade 'Twelve days of Christmas' calendar. On Christmas, go to church, light white candles, and bring simple gifts, such as leaves, twigs, and notes, to the manger under the tree to recall Christ's gift to the world. During Epiphany, hang stars and white lights, learn the Song of Simeon, and read stories of Jesus' adult life. This little gem of a book is packed with ideas to help you create new traditions and brighten the season. Appropriate for all church libraries." —Ellen Bosman, Church & Synagogue Library Association, CLT Media Review Editor

"Part memoir, part light theology, and part resource of spiritual activities, The Season of the Nativity: Confessions and Practices of an Advent, Christmas & Epiphany Extremist invites readers of all walks of life to explore Christmas celebration on a deeper level. Illustrated with full-color photography throughout, The Season of the Nativity is packed with ideas for everything from unique advent calendars to using one's whole body to learn and reenact biblical parables, to planting bulbs and watching them grow in parallel with seasonal anticipation. An inspirational treasury from cover to cover, filled with spiritual musings to reflect upon year-round, TheSeason of the Nativity is highly recommended." —Midwest Book Review
Paraclete Press, 9781612614106, 160pp.
Publication Date: November 1, 2014
About the Author
Sybil MacBeth is the author of Praying in Color: Drawing a New Path to God (2007) and Praying in Color Kids' Edition (2009). Praying in Color uses doodling and coloring as a way to get still and listen to God. Sybil combines her lifelong love of prayer with her experience as a community college mathematics professor to offer workshops and retreats throughout the U.S. and Canada. Her workshops, both prayerful and playful, engage people of varied learning styles. Sybil is married to Andy MacBeth, an Episcopal priest, and is the mother of two adult sons.
or
Not Currently Available for Direct Purchase